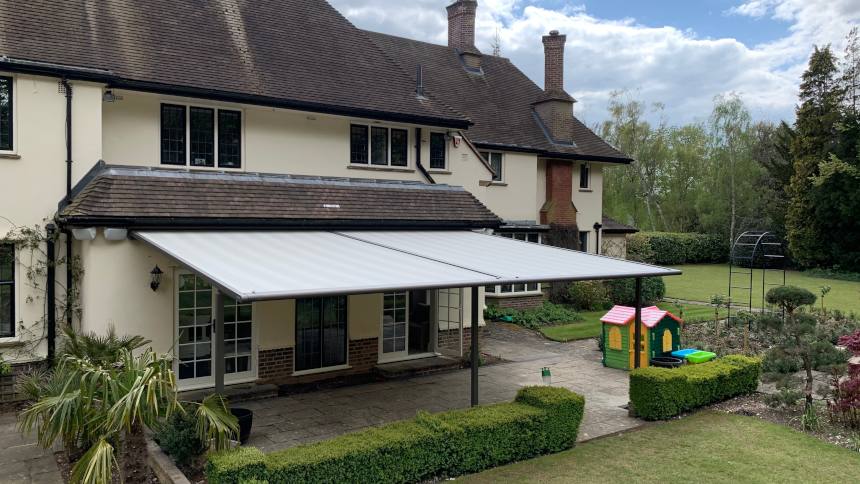 Outdoor Patio Awnings: Added Privacy & Shade
Here at Aquarius Blinds, we offer a fantastic range of patio awning options. With over 30 years of installing shading solutions and completed hundreds of awning installation across Surrey and the South East, our experienced team offer an exceptional product and service.
If you enjoy having a relaxed outdoor lifestyle, being able to kick back in your garden with a book or drink in hand, our range of stunning patio awnings for the home can make your outdoor living experience that much better. Bringing the beautiful outdoors closer to your home, our awnings keep you protected from the elements while allowing you to enjoy the fresh air – whatever the weather might be.
With the unpredictable weather we get here in Britain, a patio awning from Aquarius Blinds can provide you with a covered outdoor space whether it's windy, raining or shining. Thanks to the high-quality nature of our products, our awnings ensure all your patio furniture is safely protected from the unpredictable weather too.
Our German-engineered waterproof awnings provide years of service to consumers, truly transforming the quality time you spend at home. With one of our retractable awnings, you can decide between enjoying the full sunshine, or covering yourself with shade, depending on what your preference might be. Couple with our sliding door blinds, these awnings can transform the way your home feels by creating a seamless transition between your outdoor and indoor living areas.
However, it's not just protection from the elements that our patio awnings can offer. They can also provide you with privacy from any overlooking neighbours, allowing you to relax as much as possible while you're out enjoying the garden.
Choosing the right awning requires a bit of research to ensure that the awning you purchase is right for your space. That's why we've written a detailed guide to help you decide upon the right awning for your requirements.
Best Selling Awnings in Surrey & South East
Full cassette awning for protection
Large Terrace & Free Standing Awnings
Freestanding shade solutions
Suitable for all Markilux awnings
Patio Awnings: Manual, Electric or Fully Automated
Whether you'd rather have a manual, electric or fully automated system, we can provide each of these and as well as retractable and aluminum patio awnings. We also offer custom patio awnings for the home as well as a wide range of lighting and heating options, should you want to use your patio awning to entertain guests late into the evening.
What's more, each of our products comes with a five-year warranty to guarantee its durability and provide you with peace of mind.
If you're looking to enjoy the views of your garden away from prying eyes or blinding sunlight, why not speak to a member of our team? Utilising our three decades' worth of experience, we can help identify the best awning for your home, meeting your exact budgetary and lifestyle requirements.
Please do not hesitate to get in touch should you have any questions or queries regarding our patio awnings.
If you are planning on getting an awning, then this is the place to come. We decided to get one and shopped around. Aquarius was definitely the most competitive on price. We went to their showroom and could see the one we wanted in action. Very helpful and knowledgeable staff. Andrew came and measured up. Very efficient from start to finish. Done a great job on installing, so thank you Andrew and your team on a great job.
Alexandra Brooke
2022-02-16
We purchased an awning to provide additional shade in our south facing garden. From the start of the process through sales to installation the standard of service provided by Aquarius Blinds has been very good. The awning itself looks fantastic and was colour matched exactly to the steel work at the back of the house. Very happy to recommend this company.
We ordered a large Markilux awning for our new terrace from Aquarius, which was delivered earlier than expected and installed efficiently in a morning. The pre- and after-sales care were both excellent. We're delighted with the awning, and have no hesitation in recommending Aquarius.
Great service, quick and efficient, love the blinds, would definitely recommend Aquarius Blinds
Ciara Hanrahan
2021-05-25
Delighted with our awning - top quality and competitively priced. The customer service and updates have been excellent at all stages - right from the quoting process to the professional fitting - which took place earlier than expected. We cannot recommend Aquarius highly enough.
Blinds (we have both ceiling for roof lantern & bi-fold door blinds) are of good quality and well fitted. It would have been nice to have a call to confirm that the original colour we wanted for the bi-folds was no longer available, rather than just turn up with our second choice.
I like Aquarius blinds. They are helpful and are pretty quick to respond. Some delays to fitting due to brexit but quality is superb.
We are very happy with the quality of the Markilux 970 to say the least. Its quite and when it retracts does so smoothly. Even the fabric is a feature in it self. The fitters Reece&Joe probably do this 2nd nature and was installed with no fuss. Would highly recommend this company.
Aquarius provided great advice on a subject I knew nothing about, the process was timely and simple and the implementation quick. The awning looks fantastic and is a great addition to our outdoor space.
Patio Awnings: The Key Features
Five-Year Warranty
Full Cassette Awnings
Semi & Open Cassette Systems
Frame Colour Options
Hundreds of Fabric Colours
Self-Cleaning Fabrics
Winding Operation
Electric & Automated Operation
Home Automation Compatibility
Heaters & Lights
Over & Under Glass Systems
Side Screens
Vertical Awnings
Systems Up To 18 Metres Wide
Projection Up To 6 Metres
Explore other Awnings in the Markilux Range
Awnings Gallery
Free Frame Colour Choice for 2022