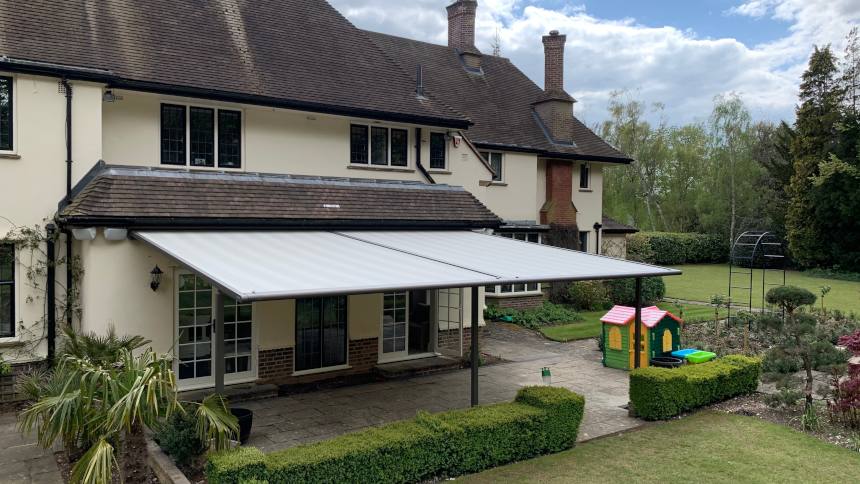 Outdoor Patio Awnings: Added Privacy & Shade
If you enjoy having a relaxed outdoor lifestyle, being able to kick back in your garden with a book or drink in hand, our range of stunning patio awnings for the home can make your outdoor living experience that much better. Bringing the beautiful outdoors closer to your home, our awnings keep you protected from the elements while allowing you to enjoy the fresh air – whatever the weather might be.
With the unpredictable weather we get here in Britain, a patio awning from Aquarius Blinds can provide you with a covered outdoor space whether it's windy, raining or shining. Thanks to the high-quality nature of our products, our awnings ensure all your patio furniture is safely protected from the unpredictable weather too.
Our German-engineered waterproof awnings provide years of service to consumers, truly transforming the quality time you spend at home. With one of our retractable awnings, you can decide between enjoying the full sunshine, or covering yourself with shade, depending on what your preference might be. Couple with our sliding door blinds, these awnings can transform the way your home feels by creating a seamless transition between your outdoor and indoor living areas.
However, it's not just protection from the elements that our patio awnings can offer. They can also provide you with privacy from any overlooking neighbours, allowing you to relax as much as possible while you're out enjoying the garden.
Choosing the right awning requires a bit of research to ensure that the awning you purchase is right for your space. That's why we've written a detailed guide to help you decide upon the right awning for your requirements.
Best Selling Awnings
Full cassette awning for protection
Large Terrace & Free Standing Awnings
Freestanding shade solutions
Suitable for all Markilux awnings
Patio Awnings: Manual, Electric or Fully Automated
Here at Aquarius Blinds, we offer a fantastic range of patio awning options. Whether you'd rather have a manual, electric or fully automated system, we can provide each of these and as well as retractable and aluminum patio awnings. We also offer custom patio awnings for the home as well as a wide range of lighting and heating options, should you want to use your patio awning to entertain guests late into the evening.
What's more, each of our products comes with a five-year warranty to guarantee its durability and provide you with peace of mind.
If you're looking to enjoy the views of your garden away from prying eyes or blinding sunlight, why not speak to a member of our team? Utilising our three decades' worth of experience, we can help identify the best awning for your home, meeting your exact budgetary and lifestyle requirements.
Please do not hesitate to get in touch should you have any questions or queries regarding our patio awnings.
Patio Awnings: The Key Features
Five-Year Warranty
Full Cassette Awnings
Semi & Open Cassette Systems
Frame Colour Options
Hundreds of Fabric Colours
Self-Cleaning Fabrics
Winding Operation
Electric & Automated Operation
Home Automation Compatibility
Heaters & Lights
Over & Under Glass Systems
Side Screens
Vertical Awnings
Systems Up To 18 Metres Wide
Projection Up To 6 Metres
Explore other Awnings in the Markilux Range
Awnings Gallery
Free Frame Colour Choice for 2022