New for 2022, the Markilux MX2 is fascinating in shape with a seamless design to enhance your outdoor space. When closed the MX-2 gives the impression is it just one piece whether you have LED lighting or not. When open it offers state of the art solar protection, covering 600 × 300 cm / 500 × 350 cm.
Minimalist, organic, harmonious design concept
The special cassette profile presents itself in a consistently attractive light and gives the impression of coming "from one mould".
All but invisible, flush connection to the wall of the building
Dimensions: Max. 600 × 300 cm / 500 × 350 cm
Be one of the first to have this stunning MX-2 installed, enquire today by calling 0208 288 1081. We cover Sussex, Surrey and London.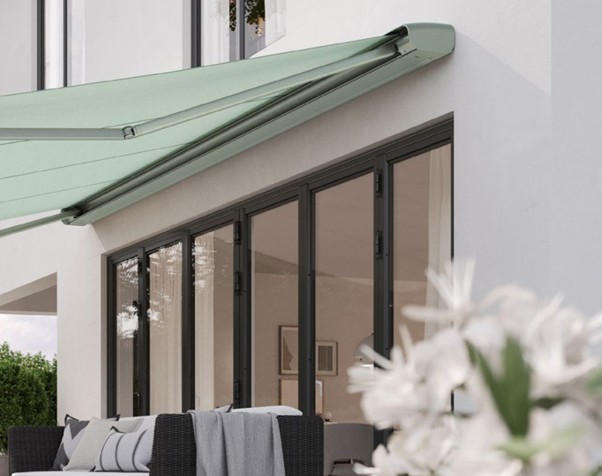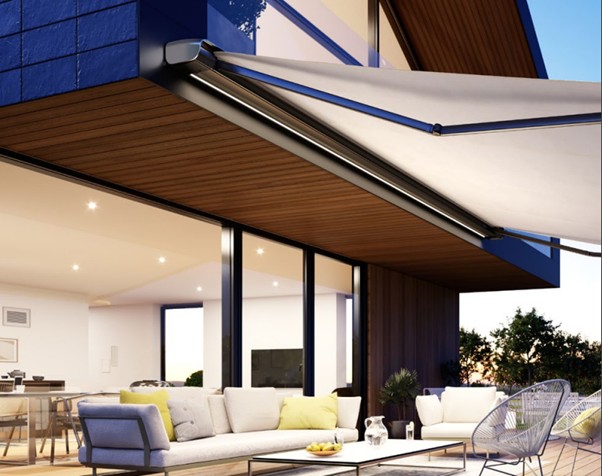 Design
Flush connection for a seamless appearance when fitted against the wall
Modern slimline cassette style
Home automation compatible
Choice of manual or remote control operation
German engineered
Bionic tendon arm
Wide choice of fabric and colour options
State-of-the-art solar protection
Optional LED lighting
Special Features
Unique slim cassette profile gives the illusion of projecting from a seamless mould, with a virtually invisible connection to the wall
The aluminium profile in the awning colour closes the gap between the awning and the wall
Optional LED lighting can be added in line with the cassette or as spot lighting to create ambiance and atmosphere throughout the evening
The slender bionic tendon arm provides impeccable strength to support wide awnings so areas up to 6 metres are shaded
Variety of panel colours and awning options to choose from for a custom appearance
Can be connected to your home automation system for added convenience, as well as linked to sun sensors for automation
Dimensions:
Cassette awning
600 x 300cm or 500 x 350cm projection
Technical:
Innovative bionic tendon arm technology which provides smooth power transference. Made from high-tech, state-of-the-art fibres which are silent and low in friction
Moving parts are constructed from drop forged aluminium which provides extra durability
Virtually silent operation with frictionless motion
Corrosion and UV resistant
Accessories:
Infrared heaters
Light and wind automation
Remote control handsets
Remote wall switches
Sun sensors
Vibration sensors
LED light bars
Wide choice of fabrics and casing colours
End Caps:
End cap insertion are made from a high-quality plastic which come in different finishes to suit your property and to match coloured styling panels
Every Markilux Awnings has:
100's of fabric options
Sun & rain protection
5 year
guarantee
Motorised remote control options
Home automation compatible
Explore other Marlilux awnings we've installed.
Explore More of Our Best Selling Awnings