Google Reviews
If you are planning on getting an awning, then this is the place to come. We decided to get one and shopped around. Aquarius was definitely the most competitive on price. We went to their showroom and could see the one we wanted in action. Very helpful and knowledgeable staff. Andrew came and measured up. Very efficient from start to finish. Done a great job on installing, so thank you Andrew and your team on a great job.
Alexandra Brooke
2022-02-16
We purchased an awning to provide additional shade in our south facing garden. From the start of the process through sales to installation the standard of service provided by Aquarius Blinds has been very good. The awning itself looks fantastic and was colour matched exactly to the steel work at the back of the house. Very happy to recommend this company.
We ordered a large Markilux awning for our new terrace from Aquarius, which was delivered earlier than expected and installed efficiently in a morning. The pre- and after-sales care were both excellent. We're delighted with the awning, and have no hesitation in recommending Aquarius.
Great service, quick and efficient, love the blinds, would definitely recommend Aquarius Blinds
Ciara Hanrahan
2021-05-25
Delighted with our awning - top quality and competitively priced. The customer service and updates have been excellent at all stages - right from the quoting process to the professional fitting - which took place earlier than expected. We cannot recommend Aquarius highly enough.
Blinds (we have both ceiling for roof lantern & bi-fold door blinds) are of good quality and well fitted. It would have been nice to have a call to confirm that the original colour we wanted for the bi-folds was no longer available, rather than just turn up with our second choice.
I like Aquarius blinds. They are helpful and are pretty quick to respond. Some delays to fitting due to brexit but quality is superb.
We are very happy with the quality of the Markilux 970 to say the least. Its quite and when it retracts does so smoothly. Even the fabric is a feature in it self. The fitters Reece&Joe probably do this 2nd nature and was installed with no fuss. Would highly recommend this company.
Aquarius provided great advice on a subject I knew nothing about, the process was timely and simple and the implementation quick. The awning looks fantastic and is a great addition to our outdoor space.
Our Markilux Awnings
Our Markilux awnings plus other blinds were all professionally installed, today. The team arrived on time, were very friendly, knowledgeable, and clean and tidy.
My wife and I want to record our sincere thanks to you and all your staff, our expectations were truly exceeded.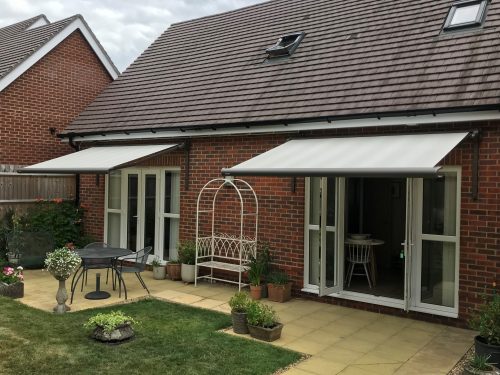 The awning is up and looking great!
I just wanted to pass on my thanks to you and all your team — I've been so impressed by everyone's attention to detail and care, every step of the way.
Our house was an enormous renovation project, and I can say that nobody I've worked with on any aspect of it has shown the patience, skill and pride in what they do as Aquarius have. It's very unusual to come across — and very, very nice! I'll be recommending you loudly!
they were so calm and efficient
Before buying I had loads of questions which I emailed to Aquarius, they answered promptly and when I finally got round to getting them to measure the side office and the snug they had an early evening slot so it was not too inconvenient. The prices were not as cheap as ordering from the internet, but it did mean I did not have to nag a tired husband to fit them (still waiting for Hubby to do the spare room) ordering was easy and small snag (blind for downstairs loo missing top fitting) was fixed the next day.
What made me add this comment was that they were so calm and efficient, something I thought was missing from London tradesmen.
I was really impressed
Just a quick letter, we ordered all the roman blinds for my house from you, the beginning of March and wanted to let you know they all fitted perfectly except the kitchen one which you know about. I was really impressed with how your company reacted when we weren't 100% happy and the efforts you made to get it right, I suppose that is how you know which are the good guys, I am more than happy for this email to go on your website and you to use me as a testimonial – reference because this is the second time we have used AQ and each time we are getting what we feel is real value for money. I couldn't get in touch any sooner as I've only just got back for the US.
you did us proud
Doing up a home sounded like such an adventure to us when we started our project. We quickly learned that the number of options and decisions that are involved can make the design project overly complicated and burdensome. Still we did not want something ordinary and so we relied on Aquarius' expertise to research our options and focus the suggestions on those that were most appropriate for our home and lifestyle, saving us much time and energy and making the process more enjoyable for us. We chose roman blinds from a fabric in your showroom, although the windows were quick large they look so elegant in cream and really set off our pictures as was intended, we were worried about staining and snagging when you use them often, but three weeks later they are good as new. This long and window email is really just a big thank you for putting up with two American amateur interior designers, you did us proud and we will recommend you to all our friends, once we have the rest of house finished.
They are a truly professional company
I have been a customer of Aquarius for seven years now and during that time I have had many other companies try to get our business. I would not consider changing. My company managed twelve office blocks in central London and Aquarius Blinds have supplied all of the window shades and blinds for all of them. Every time they are competitive (we get three quotes) and efficient. I have no problem with allowing them access over the weekend to any of the units, knowing full well that nothing will be touched and that I will receive a few thank you emails in the morning. They are a truly professional company and I am happy to be offered as a reference. Incidentally they did the awnings at my daughters school.
will definitely buy from you again
Hi Andrew just giving you a bit of feedback on your blinds, Mitch put these up yesterday no problems at all in fact I am well impressed with them, perfectly finishes off the bedroom really well will definitely buy from you again in the future once I finish decorating.
I found your fitter…extremely helpful
I found your fitter, Steven (Stefan?), extremely helpful when he came to my house to measure for fitting and also when choosing the fabrics I preferred. When it came to fitting he arrived on time and completed the job with no mess whatsoever. My only niggle is that we had to leave for half and hour at 11.00 (when I was waiting to go out), however can't really complain as I was only going to Tescos.
they look amazing as they are made to fit perfectly
AQ just fitted some blinds at my home and they look amazing as they are made to fit perfectly. Keeps the sun out but still lets enough light through to brighten the room. red was right after all, many thanks! Kerry W.