Google Reviews
Aquarius Blinds provided an exceptional service from start to finish. The fitters, Kristian & Luke, were meticulous working to the highest standard. The rest of the team, Andrew, Rees and Abby all a pleasure to deal with. Would highly recommend Aquarius Blinds to friends and family.
Got our new electric blind fitted yesterday, very good service and done in time and all cleaned before leaving. The service from Aquarius is always brilliant - that's probably why this is the fourth item we have got from them. Can't recommend them enough
Blinds look great and work great and were installed on time and very professionally. I can wholeheartedly recommend using this company.
I had 6 x electric window roller blinds fitted, Aquarius provided excellent service through from estimating to fitting. very happy customer.
We have recently had an awning installed by Aquarius. From start to finish the service was most professional and efficient. From the Surveyor's visit through the Receptionist's calls & to the Installers. Everyone was friendly, slick and knowledgeable. We are very pleased. The components are from Germany and bear out the reputation of German manufacture. Everything was explained in detail before, during and after installation. We highly recommend Aquarius.
We can't emphasize enough how delighted we were with the entire experience we had with Aquarius. From initial contact through to installation this company is professional, knowledgeable and guided us through every phase of the project. Initially we came to them looking for a skylight blind for a large 2.5x2.5 piece of glass to assist with privacy and temperature control. Having met them and gained complete confidence we also moved forward with 650x300 large Markilux awning. This seemed a daunting element given size and weight etc – but they made us completely comfortable that it could be a great solution. During the initial conversations they took the time to get to know our project and gave us a thorough feedback on available options and what they believed was the optimal approach. This consultation process should not be undervalued as we also approached other vendors that did not want to make this effort is getting to know us. This hands on approach gives the sense you are dealing with a bespoke project manager but at the same time they have the experience of a large operation. The onsite visits allowed us to put various options on the table to discuss as there was not just a hard coded sell and move on attitude. Rather they wanted us to get the best possible solution we could find. They coordinated fluidly with our builder and had direct communication as to technical needs such as supporting structured and electricals. Had they not done this directly it could have led to wasted time and money (which they saved us on both). From fabric colours to support brackets – there was no detail left to chance and they were very granular in showing us how it would mesh best with our other fixtures. All of this in the end ended up enhancing the overall look and feel and blending in perfectly. From ordering to arrival we were kept updated as to lead times and coordinating this with other parts of our building project. All correspondence (emails, phone calls) were met with quick and clear responses which allowed us to focus on other areas of the build. The installation team were world class. Punctual, courteous, hardworking – all the attributes that you hope for at the critical juncture that can define the overall success. They spent a significant amount of time ensuring we were happy with the angles and various aspects that could otherwise be overlooked. We had a comprehensive training and information session with them which again filled us with the confidence that they were invested in wanting their brand to be stamped alongside this product. We have had amazing response from our neighbours on both the skylight blind and what has become the showpiece of our garden – the awning. It has allowed us to enjoy hot summer afternoons and evenings in the comfort of our back patio. Elements like the Shade Plus (very cool) also provide amazing relief to our ground floor kitchen in keeping it from direct sunlight and has had a great impact on our energy consumption. All I can say is – give this company an opportunity and you will not be disappointed.
Great experience from initial contact to installation. Had previously attempted to purchase an awning from another company but the service was dreadful. Glad I chose Aquarius.
Marsha Beresford
2022-08-12
I have received excellent service from Aquarius for over 6 years they have installed both internal and external blinds. The latest installing a large 4 x 7 m garden awning. They are prompt efficient and I have recommended them to all my friends who have also used them.
If you are planning on getting an awning, then this is the place to come. We decided to get one and shopped around. Aquarius was definitely the most competitive on price. We went to their showroom and could see the one we wanted in action. Very helpful and knowledgeable staff. Andrew came and measured up. Very efficient from start to finish. Done a great job on installing, so thank you Andrew and your team on a great job.
We are delighted with our awning installed
We are delighted with our awning installed yesterday. We ate lunch & supper under it – an extra room! We love the colour of the fabric and cassette – all blends nicely with the old bricks. Also it's surprisingly discreet when closed.
We want to thank you for the great service you provided. Andrew in the first instance; Reiss who spent time discussing the options with us; Abi for keeping us informed of delivery progress; Christian & Joe who were most pleasant, hot on health & safety & efficient. Also very clear explaining how it all works and how to maintain it. We are sure also there were others behind the scenes involved.
We know you have installed several in this road – I will post a recommendation on our Road Whats App and offer neighbours to come and see it.
Thank you all!
Our Markilux Awnings
Our Markilux awnings plus other blinds were all professionally installed, today. The team arrived on time, were very friendly, knowledgeable, and clean and tidy.
My wife and I want to record our sincere thanks to you and all your staff, our expectations were truly exceeded.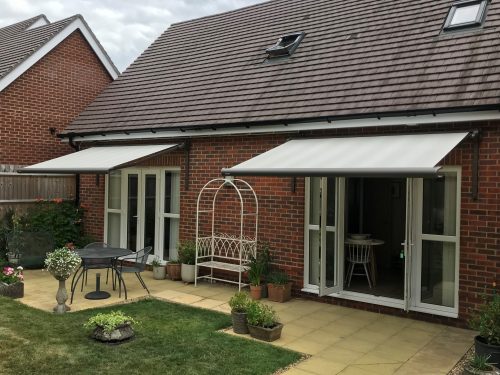 The awning is up and looking great!
I just wanted to pass on my thanks to you and all your team — I've been so impressed by everyone's attention to detail and care, every step of the way.
Our house was an enormous renovation project, and I can say that nobody I've worked with on any aspect of it has shown the patience, skill and pride in what they do as Aquarius have. It's very unusual to come across — and very, very nice! I'll be recommending you loudly!
they were so calm and efficient
Before buying I had loads of questions which I emailed to Aquarius, they answered promptly and when I finally got round to getting them to measure the side office and the snug they had an early evening slot so it was not too inconvenient. The prices were not as cheap as ordering from the internet, but it did mean I did not have to nag a tired husband to fit them (still waiting for Hubby to do the spare room) ordering was easy and small snag (blind for downstairs loo missing top fitting) was fixed the next day.
What made me add this comment was that they were so calm and efficient, something I thought was missing from London tradesmen.
I was really impressed
Just a quick letter, we ordered all the roman blinds for my house from you, the beginning of March and wanted to let you know they all fitted perfectly except the kitchen one which you know about. I was really impressed with how your company reacted when we weren't 100% happy and the efforts you made to get it right, I suppose that is how you know which are the good guys, I am more than happy for this email to go on your website and you to use me as a testimonial – reference because this is the second time we have used AQ and each time we are getting what we feel is real value for money. I couldn't get in touch any sooner as I've only just got back for the US.
you did us proud
Doing up a home sounded like such an adventure to us when we started our project. We quickly learned that the number of options and decisions that are involved can make the design project overly complicated and burdensome. Still we did not want something ordinary and so we relied on Aquarius' expertise to research our options and focus the suggestions on those that were most appropriate for our home and lifestyle, saving us much time and energy and making the process more enjoyable for us. We chose roman blinds from a fabric in your showroom, although the windows were quick large they look so elegant in cream and really set off our pictures as was intended, we were worried about staining and snagging when you use them often, but three weeks later they are good as new. This long and window email is really just a big thank you for putting up with two American amateur interior designers, you did us proud and we will recommend you to all our friends, once we have the rest of house finished.
They are a truly professional company
I have been a customer of Aquarius for seven years now and during that time I have had many other companies try to get our business. I would not consider changing. My company managed twelve office blocks in central London and Aquarius Blinds have supplied all of the window shades and blinds for all of them. Every time they are competitive (we get three quotes) and efficient. I have no problem with allowing them access over the weekend to any of the units, knowing full well that nothing will be touched and that I will receive a few thank you emails in the morning. They are a truly professional company and I am happy to be offered as a reference. Incidentally they did the awnings at my daughters school.
will definitely buy from you again
Hi Andrew just giving you a bit of feedback on your blinds, Mitch put these up yesterday no problems at all in fact I am well impressed with them, perfectly finishes off the bedroom really well will definitely buy from you again in the future once I finish decorating.
I found your fitter…extremely helpful
I found your fitter, Steven (Stefan?), extremely helpful when he came to my house to measure for fitting and also when choosing the fabrics I preferred. When it came to fitting he arrived on time and completed the job with no mess whatsoever. My only niggle is that we had to leave for half and hour at 11.00 (when I was waiting to go out), however can't really complain as I was only going to Tescos.