Light filtering, electric vertical blinds can create the perfect balance between light and privacy in any room and are a perfect option for large glass walls, bifold doors and even apex windows.
Available in a wide range of fabrics and styles from Voile, fresh spring plains, blackouts, suede and solid PVC slats, our electric vertical blinds offer design flexibility and fingertip control in any situation.
We can create blinds to your exact specifications. With an abundance of patterns and textures to choose from, you'll easily be able to match your new blinds with your existing décor and make a stunning style statement in your home.
Perfect Privacy For Small and Large Windows
Getting the balance right between optimising light and retaining privacy for big and small windows isn't always easy. We think our vertical blinds are the perfect solution. We are able to produce powered vertical blinds from as small as 400mm up to 5100mm wide and drops as large as 4000mm (subject to fabric weight).
Smart Home Automation Options
IPhone and IPad control
Smart Remote Control Capability
Home Automation Compatibility
Alexa Voice Control
Increased Security
Exquisite Blinds in Contemporary Colours and Fashionable Fabrics
We offer over 3000 fabrics suitable for our vertical blinds, ranging from voile and screen to pattern and blackout. No matter what colour or pattern you are looking for, we have the fabric to match your requirements.
Our beautiful fabric ranges include Amo, Louvolite, Eclipse, Dutton & Gavin, Mermet, Fabric box, Aquarius, New House textiles, Decorquip, and AR Irwin and we have access to many more. If there's a particular print or fabric you are looking for, simply ask us. We are confident we can find the perfect fabric and colour palette to suit the style of your home.
We also have a range of special treatments for fabrics such as anti-mould, Fire retardant, moisture repellent and our latest "Pollergen" fabric for collecting active pollen particles and preventing them from entering the room.
Sleek, Efficient and Stunning Blinds
As well as the choice of hundreds of different fabrics, our vertical blinds come in two slat sizes:
89mm Louvers
127mm Louvers
The slat size you choose for your blinds will depend on the size of your window and the look you are going for. We will talk you through the options and show you examples so you can be confident in getting your style choices right. We want everything about your blinds to be perfect.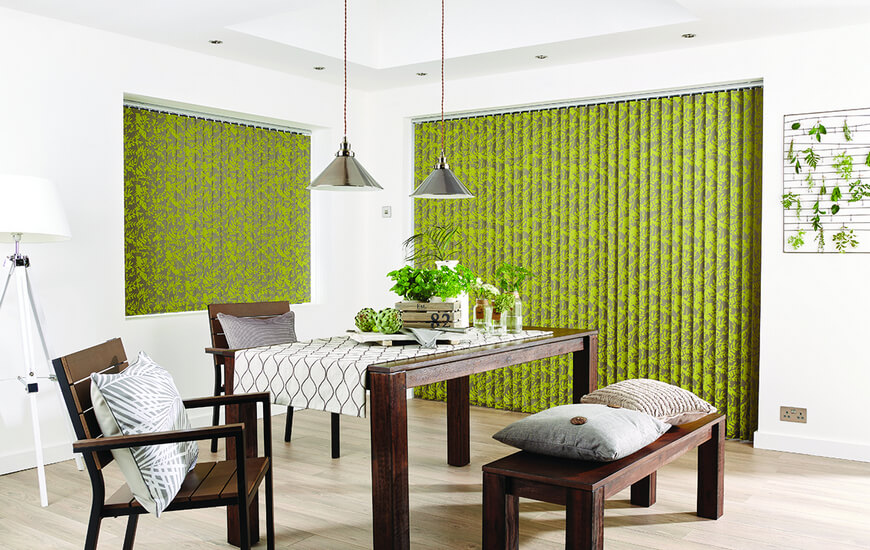 Flawless Finishing Touches
The finishing touches to your blind will help to give your home a refined feel. The headrail for all of our motorised vertical blinds comes in a standard white, and there are 3 colour options for the weights and chains at the base of the blinds.
We know what works when it comes to blind styling and we keep the choices for finishing touches simple. You choose the fabric, the slat width, and the colour for the weights and chains, and we'll create stylish blinds that lift your interiors up a notch.
Impressive Technology For Smooth Operation
We believe in smart blind solutions for modern living, so all of our electrical vertical blinds are fitted with RTS – Radio Technology Somfy®. Our exciting control movements put you in complete control of your blinds at a touch of a switch, a remote control, and even from your smart technology.
The Somfy® RTS system is an exclusive control platform enabling you to adjust your motorised blinds from virtually anywhere inside or outside the home.
Features include:
RTS – Radio Technology Somfy®
240v Motor
Solar operation
Battery operation
Tahoma & Conexnoon compatibility
Home automation compatibility
Stay in Control of Your Privacy
Staying in control of the light, shade, temperature and privacy in your rooms couldn't be easier than with our operating solutions. We offer a multitude of options for controlling your blinds. Whether you want control over a single-blind, group control or automated timing, our RTS system can be set up to do just that.
At the push of a wall switch controller, the click of a wireless remote controller, or the easy use of an App on your smartphone or iPad, you can keep fingertip control of your blinds any time of day or night. You can even schedule your blinds to open and close with local sunrise and sunset times.
Our electrically-operated blinds offer a host of brilliant features, including:
App controlled from your smartphone or iPad
Home automation compatibility
Wall switches
Hand remote control
Solar powered
Light and temperature sensors
Timers
Get in Touch
For all of your window treatment needs, get in touch with our professional team today. We have over 30 years of experience in the supply and fitting of luxury blinds. We've also invested in the latest technology to ensure all of our blinds are manufactured to the highest quality.
For superior blinds and meticulous fitting service, call us now on 0208 288 1081, email us at info@aqblinds.co.uk, or come and see us at our showroom for inspiration and chat with one of our experts. We look forward to speaking with you soon.
FAQs
I still don't know if an electric vertical blind is right for me. Can you help?
 Absolutely! Our friendly team would be more than happy to help – whatever your needs may be. Simply contact us today and we'll be able to answer any questions or queries you might have regarding installation.
Which is the best control for my blinds?
 With our electric vertical blinds, in particular, we recommend using the Somfy RTS System to control them. This exclusive control platform not only makes controlling your blind much easier, but it also makes it a lot more fun as well, enabling you to adjust your motorised blinds from virtually anywhere inside or outside the home.
Are electric vertical blinds easy to look after?
 Yes, virtual blinds are arguably easier to look after than horizontal versions since they won't catch as much dust. To maintain your blinds effectively, use a soft microfibre cloth or vacuum them gently using a soft upholstery attachment to avoid any damage.