Our popular range of electric pleated blinds is the ideal solution for achieving a contemporary look in your home. Slim on the eye and perfect for bi-fold doors and conservatories, they can be made to fit virtually any window shape, be it square or rectangular, vertical or horizontal, triangular or sloping.
Choose from a wide selection of fabulous, British-made fabrics to enhance your interior décor. Options include insulated fabrics such as the Duette range, soft palettes, patterns, sheers and voiles to create wonderful window dressings to complement the style of your home.
Fitting electrically-operated pleated blinds is about more than just looks. Using advanced technology that's easy to operate, our blinds can be opened and closed at the touch of a button, remotely or via an app, with many different options available for your convenience.
At Aquarius Blinds, we manufacture our blinds to your specifications including window size, preferred fabric choice and your requirements for screening light. As window blind experts, we can guide you through the process of choosing the correct fabric weight to achieve the right level of privacy, combined with the most appropriate and convenient way to control your blinds.
Home Automation Options
IPhone and IPad control
Somfy TaHoma
Home Automation Compatibility
Alexa Voice Control
Increased Security
Premium Electric Pleated Blinds To Fit All Spaces
At Aquarius Blinds, we pride ourselves on being able to accommodate all your domestic blind requirements. Whatever the size of your windows, we can help you find the perfect blind to complete your interior design while providing the right degree of privacy and light control.
We are able to manufacture motorised pleated blinds for most sizes of the window – from apertures as small as 350mm up to 4500mm wide, with drops as large as 4000mm catered for. In other words, no job is too big or too small!
Fabrics In A Huge Choice Of Colours, Textures & Finishes
We offer electric pleated window blinds in more than 2000 fabrics, in a selection that ranges from voile and screen to pattern and blackout fabrics.
Whatever your personal taste and design preference for colour, texture or pattern, we're bound to have the perfect fabric. From simple plain fabrics for a calming aesthetic to vibrant pops of colour or tactile finishes, there's a vast choice of fabrics available.
Our extensive fabric ranges include textiles by Amo, Duette, Louvolite, Eclipse and Hunter Douglas. The square metre area and fabric weight are calculated for the correctly specified control option, so once you've chosen your favourite fabric, just leave the rest to us!
Wide Selection Of Pleat Sizes For Every Window
Aquarius Blinds' electric pleated window blinds come in a wide variety of pleat sizes. Getting the right pleat size and fabric for your window blind is important to ensure the blind opens and closes perfectly and looks fantastic. Our expert team will advise on the most appropriate pleat size for your blinds so that you get the best results from your investment. It's all part of the service.
We have the following pleat sizes available:
20mm single pleat
20mm Duette pleat
25mm single pleat
25mm Duette pleat
32mm Fixe pleat
32mm Duette pleat
64mm Duette pleat
Finishing Touches For Your Electric Pleated Blinds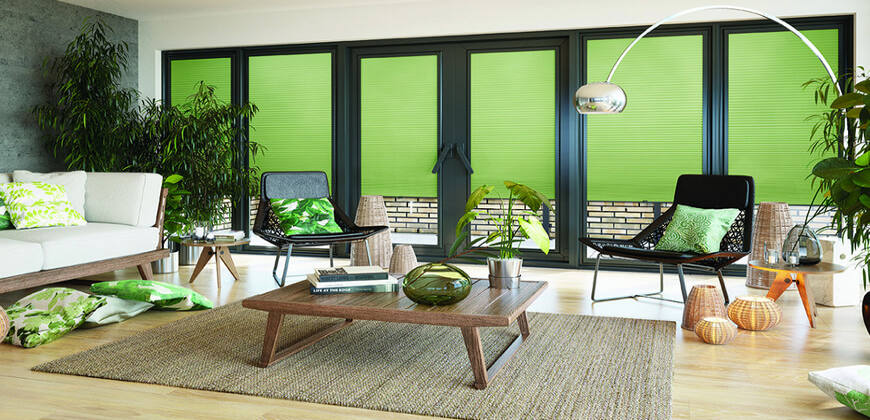 We are pleased to offer the hardware (aluminium rails) for our pleated blinds in 10 standard colours. In addition, there are options for special colour matching to your chosen fabric. From popular grey tones in RAL7016 to soft greens that complement the latest trends in window and door colours, paying attention to the finishing touches of your window blind can make a world of difference to the end result. Why cut corners?
Finishing your pleated blind can create a very personal solution for your home and décor. At Aquarius Blinds, we want every bit of your window blind system to look perfect and fit like a dream. We pay close attention to every detail of your pleated blind, down to the finishing touches.
Contemporary Blinds With Sophisticated Operation
We have exciting options for control movements that let you completely control your electric blinds, either at the flick of a switch, a remote button or even by mobile app. Set light and temperature preferences, and control your privacy by operating your blinds to the exact chosen position, day and night.
Choose the popular Somfy® RTS system to operate your blinds on a timer, controlled remotely from anywhere in the house or garden. Just plug in the RTS receiver and have full control of your blinds literally at your fingertips. Our power and control options include mains supplies, rechargeable battery operation and solar operation – it's entirely your choice.
RTS – Radio Technology Somfy®
12v Motor
24v Motor
230v Motor
Solar operation
Rechargeable battery operation
Tahoma & Conexnoon compatibility
Home automation compatibility
Aquarius Blinds is an established manufacturer with a wealth of expertise that we are happy to share with our customers. We offer valuable guidance to match the motor and control options so that your requirements in terms of both functionality and design are fully satisfied.
Easy & Convenient Controls For Your Window Blinds
When it comes to electric window blind controls, there's a wealth of choices available. From switches and remote controls to timers, sensors and apps, we can offer a simple and straightforward solution for operating your blinds.
Use the app on your smartphone or tablet to adjust your blinds remotely, scheduling them to open and close in line with sunrise and sunset times. You have complete control over light, shade and temperature control in your rooms, from wherever you are. Aquarius Blinds' electrically operated pleated blinds are available with a host of options such as:
App controlled from your smartphone or iPad
Home automation compatibility
Wall switches
Hand remote control
Solar powered
Light and temperature sensors
Timers
Get In Touch Now
If you would like further information about our electric pleated blinds or any of our solutions for domestic blinds, please contact our friendly and knowledgeable team of professionals today at 0208 288 1081, email info@aqblinds.co.uk or visit our showroom for an informal chat.
With more than 30 years of experience in supplying and fitting a wide range of luxury blinds and our own high-quality manufacturing equipment at our disposal, Aquarius Blinds have built a strong reputation for superior quality blinds. Transform the look and feel of your home with expertly fitted electric pleated blinds from Aquarius Blinds.
FAQs
I'm unsure whether an electric pleated blind is right for me. Can you help?
We would love to! As experts in blind installation, our friendly yet professional team are well-equipped to deal with a wide range of different requirements. Whatever your situation may be, simply get in touch with us today and we'll be able to help.
How much do the blinds cost to install?
This is a difficult question to answer really as it largely depends on your exact circumstances – the size of the blind you're after, the type of control you'd like to use and any potential installation issues. A member of our team will be able to provide you with a free, no-obligation quote before any work takes place though, so you'll always know what the exact cost involved will be.
Which is the best type of blind control to have?
Again, this really depends on you. If you're looking to integrate the blind into your smart home set-up, then an app-controlled blind would be the best bet. However, if you'd rather control it using a switch next to your light, then we'd recommend wall switch control. To try out each type of control for yourself, why not come and visit us in our showroom?