Electric blinds, electric roller blinds, motorised blinds, powered blinds, home automation blinds – call them what you like but they are fast becoming the must-have accessory in the home.
With our expertise, you can be sure to explore all the possibilities when requiring electric blinds and with our experience working on home blind automation systems with leading brands such as Lonone, Control4, Crestron and TaHoma you can be sure to receive the best advice.
Home automation systems are at the forefront of electric blinds and awnings in the home and as motorisation becomes more reliable it is also more affordable.
Should you require electric blinds for your bifold doors, roof lantern or just about any window or door, we have systems that are simple to have installed, maintain, and operate.
Whatever the look, size or style, we have a motorised blind to suit you and your home.
Powered and motorised blinds can help control your home's temperature and privacy and enhance your comfort and security.
Explore the possibilities and surprise yourself.
We install blinds for homes in Sussex, Surrey, London, Kent and further afield. If you are interested in any of our blinds, do not hesitate to get in touch with us today.
Home Automation Options
IPhone and IPad control
Somfy TaHoma
Home automation compatibility
Alexa Voice Control
Increased Security
Introducing Somfy TaHoma
Imagine an intelligent system so easy to use, affordable and can control your home, well stop imagining as the Somfy TaHoma smart home is here.
Somfy Smart Home puts you in control, makes your life easier, and more comfortable and gives you peace of mind, wherever you are. Monitor and operate remote control blinds, curtains, lights, electrical equipment, heating, garage doors and gates with your smartphone or tablet.
You can adjust almost everything with the Somfy Smart Home System to accommodate your personal preferences and monitor and operate it from anywhere in the world. Keep an eye on your home using cameras and movement detectors to give peace of mind.
Somfy TaHoma is a smart box at the heart of your Smart Home. It links you to your home via the smart TaHoma app. Somfy Smart Home solutions are straightforward to use and can be installed with very little trouble. You can add products whenever it suits your needs or your budget. Somfy Smart Home gets the most from your home with the least possible effort.
Smart living starts with Somfy Smart Home.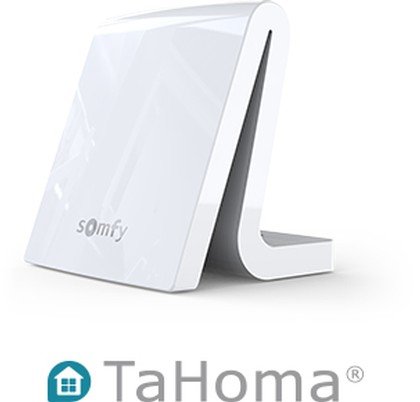 Explore Electric Blind Options
Aquarius Blinds provided an exceptional service from start to finish. The fitters, Kristian & Luke, were meticulous working to the highest standard. The rest of the team, Andrew, Rees and Abby all a pleasure to deal with. Would highly recommend Aquarius Blinds to friends and family.
Got our new electric blind fitted yesterday, very good service and done in time and all cleaned before leaving. The service from Aquarius is always brilliant - that's probably why this is the fourth item we have got from them. Can't recommend them enough
Blinds look great and work great and were installed on time and very professionally. I can wholeheartedly recommend using this company.
I had 6 x electric window roller blinds fitted, Aquarius provided excellent service through from estimating to fitting. very happy customer.
We have recently had an awning installed by Aquarius. From start to finish the service was most professional and efficient. From the Surveyor's visit through the Receptionist's calls & to the Installers. Everyone was friendly, slick and knowledgeable. We are very pleased. The components are from Germany and bear out the reputation of German manufacture. Everything was explained in detail before, during and after installation. We highly recommend Aquarius.
We can't emphasize enough how delighted we were with the entire experience we had with Aquarius. From initial contact through to installation this company is professional, knowledgeable and guided us through every phase of the project. Initially we came to them looking for a skylight blind for a large 2.5x2.5 piece of glass to assist with privacy and temperature control. Having met them and gained complete confidence we also moved forward with 650x300 large Markilux awning. This seemed a daunting element given size and weight etc – but they made us completely comfortable that it could be a great solution. During the initial conversations they took the time to get to know our project and gave us a thorough feedback on available options and what they believed was the optimal approach. This consultation process should not be undervalued as we also approached other vendors that did not want to make this effort is getting to know us. This hands on approach gives the sense you are dealing with a bespoke project manager but at the same time they have the experience of a large operation. The onsite visits allowed us to put various options on the table to discuss as there was not just a hard coded sell and move on attitude. Rather they wanted us to get the best possible solution we could find. They coordinated fluidly with our builder and had direct communication as to technical needs such as supporting structured and electricals. Had they not done this directly it could have led to wasted time and money (which they saved us on both). From fabric colours to support brackets – there was no detail left to chance and they were very granular in showing us how it would mesh best with our other fixtures. All of this in the end ended up enhancing the overall look and feel and blending in perfectly. From ordering to arrival we were kept updated as to lead times and coordinating this with other parts of our building project. All correspondence (emails, phone calls) were met with quick and clear responses which allowed us to focus on other areas of the build. The installation team were world class. Punctual, courteous, hardworking – all the attributes that you hope for at the critical juncture that can define the overall success. They spent a significant amount of time ensuring we were happy with the angles and various aspects that could otherwise be overlooked. We had a comprehensive training and information session with them which again filled us with the confidence that they were invested in wanting their brand to be stamped alongside this product. We have had amazing response from our neighbours on both the skylight blind and what has become the showpiece of our garden – the awning. It has allowed us to enjoy hot summer afternoons and evenings in the comfort of our back patio. Elements like the Shade Plus (very cool) also provide amazing relief to our ground floor kitchen in keeping it from direct sunlight and has had a great impact on our energy consumption. All I can say is – give this company an opportunity and you will not be disappointed.
Great experience from initial contact to installation. Had previously attempted to purchase an awning from another company but the service was dreadful. Glad I chose Aquarius.
Marsha Beresford
2022-08-12
I have received excellent service from Aquarius for over 6 years they have installed both internal and external blinds. The latest installing a large 4 x 7 m garden awning. They are prompt efficient and I have recommended them to all my friends who have also used them.
If you are planning on getting an awning, then this is the place to come. We decided to get one and shopped around. Aquarius was definitely the most competitive on price. We went to their showroom and could see the one we wanted in action. Very helpful and knowledgeable staff. Andrew came and measured up. Very efficient from start to finish. Done a great job on installing, so thank you Andrew and your team on a great job.
Electric Blind Operation Options
Wireless Battery
Wireless Rechargeable Motors
Wireless Solar Rechargeable
230 Hard Wired
Low Voltage
Wireless Battery Motor Options
Sonesse 28 Lithium Li-ion WireFree RTS motor
An easy-to-install "WireFree" motor with a built-in rechargeable lithium battery suited for medium roller blinds with lightweight fabrics.
RTS technology
Control with – RTS remote – RTS wall switch – Tahoma
Alexa voice control via Tahoma
Electronic limits
Torque – 1.1Nm
Speed – 28rpm
Frequency 433.42 Mhz
Battery – 12V
Recharge battery normally yearly (subject to use) – Low battery LED indicator
Solar power charging
Minimum blind width 610mm
Sonesse 30 Ultra Lithium WireFree RTS Li-ion motor
A simple-to-install "WireFree" built-in rechargeable lithium motor with superb power lifting capacity coming in at 2Nm capacity making it perfect for large blinds with heavy fabrics.
RTS technology
Control with – RTS remote – wall switch – Tahoma
Alexa voice control via Tahoma
Electronic limits
Torque – 2Nm
Speed – 20rpm
Frequency 433.42 Mhz
Battery – 12V
Recharge battery normally yearly (subject to use) – Low battery LED indicator
Solar power charging
Minimum blind width 710mm
Wired Motors Options
Our Sonesse 40 motor range is vast and offers a multitude of options. The motor comes with variants – a built-in radio receiver with the remote control or a WT wired version with a wired wall switch or home automation. The possibilities are endless when combined with other Somfy contacts and receivers.
Soness 40 RTS 3/30 – 6/60 – 9/90
Soness 40 WT 3/30 – 6/60 – 9/90
Control with – RTS remote – wall switch – Tahoma
Alexa voice control via Tahoma
Electronic limits RTS version
Progressive limits WT version
Frequency 433.42 Mhz
Minimum blind width 600/680mm depending on motor
| | | | | | | | | |
| --- | --- | --- | --- | --- | --- | --- | --- | --- |
| | Sonesse 28 | Sonesse 30 | Sonesse 3/30 rts | Sonesse 6/60 rts | Sonesse 9/90 rts | Sonesse 3/30 wt | Sonesse 6/60 wt | Sonesse 9/90 wt |
| Roller blinds | ✔ | ✔ | ✔ | ✔ | ✔ | ✔ | ✔ | ✔ |
| Wood Venetian | | ✔ | ✔ | ✔ | | ✔ | ✔ | |
| Pleated blinds | | ✔ | ✔ | ✔ | | ✔ | ✔ | |
| Lantern roller | | | | ✔ | ✔ | | ✔ | ✔ |
| Vision blinds | ✔ | ✔ | ✔ | ✔ | ✔ | ✔ | ✔ | ✔ |
| Cased Blackout | | ✔ | ✔ | ✔ | | ✔ | ✔ | |
| Roman blinds | | ✔ | ✔ | ✔ | | ✔ | ✔ | |
Electric blind solutions for your home