With such a wide variety of styles to choose from, more and more property and building owners are installing large glass walls and bi-fold doors to maintain the sleek, contemporary nature of their homes. However, coupled with that comes a requirement for shade, privacy and a thermal barrier, and that's where Aquarius Blinds can help.
Benefits of Bifold Door Blinds
Glare Reduction
Thermal Barrier
Privacy & Security
Sun Control
Sleek & Stylish
New Arrivals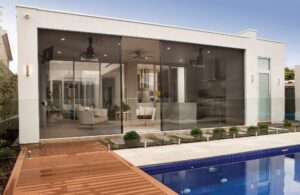 SIDEWAYS SLIDING DOOR BLINDS
Our sideways pulling screening system by Centor enables homeowners with large door openings to enjoy all the benefits of indoor/outdoor living without having to compromise on the loss of privacy, sun glare or insect protection.
The award-winning design is the perfect solution for sliding and bifold door blinds and retractable fly screens for patio doors.
Explore More
Our Best Selling Bifold Door Blinds
Electric Blinds for Bifold Doors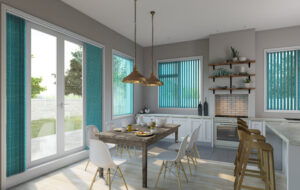 ELECTRIC DOOR BLINDS
Electric blinds, electric roller blinds, motorised blinds, powered blinds – call them what you like but they are fast becoming the must-have accessory in the home.
They are ideal for door coverings and bifold doors as they can be produced up to 6 meters wide. Operated at the touch of a button, our motorised blinds rotate and draw to either one side or split centrally like a pair of curtains.
Explore More
How to Choose the Perfect Blinds for Bifold Doors
Blinds for bifold doors come in a range of styles and materials, from fabric pleated or roller blinds to electric bifold blinds and aluminium Venetian blinds. If you're in need of blinds that thermally control the room, keeping it cool in the summer and warm in the winter, our Duette blinds may be the best option for your home. For larger blinds, we also offer sideways sliding blinds which make light work of reducing sun glare and maintaining privacy. In addition to different materials and styles, we offer a variety of colours and patterns to choose from to suit your taste and décor style.
Bifold doors are a top trend for homemakers nowadays, with vast panes of glass that let plenty of light in and offer the feeling of space, blending indoor and outdoor spaces seamlessly. Practical and beautiful, bifold blinds are the perfect way to enhance your property, but how do you cover such a vast expanse of space?
Since bi-fold doors are so modern and stylish, curtains don't always work. With our range of blinds, you can find a style that fits the look and feel of your home perfectly, while also being practical. The style you choose depends on the type of doors you have. For example, vertical blinds are ideal if your doors open outwards, but inward-opening doors require a different style.
Roller blinds work with doors under 6m in width and come in a range of fabric colours and patterns to add a decorative feature. For wider doors, vertical blinds are perfectly suited and can be made up to 3m wide, so you can use multiple blinds to cover the space.
Electric roller blinds are a convenient solution that offers the best of both worlds, while thermal blinds can provide added control over the temperature, thanks to the innovative honeycomb cells which trap heat to keep your home comfortable.
We can fit bifold blinds in a host of different settings, from residential properties to commercial premises. Bifold blinds are an effective, practical solution for a range of business settings, such as hotels, restaurants and bars to retail outlets, offices and government buildings, as well as your own home or investment property.
We will work with you to provide bifold blinds that fit perfectly with the doors in the property, with a professional installation service by qualified fitters for a great result.
If you are looking for any help or advice on which blind to install on your bifold door or large glass area, why not give us a call? We have substantial experience to our name and will know the best solution for your exact circumstances.
Bifold Door Blinds Gallery