Many property and building owners favour large glass walls and doors in an effort to bring the outside in while maintaining a sleek, contemporary look. Connecting indoor and outdoor living areas can transform the way a home feels. But whether your property features large sliding glass doors, external bi-fold doors or concertina style folding patio doors, it is also important to take into account your requirements for privacy, sun glare protection and insect control.
This is where Aquarius Blinds can help. As a renowned British blind and awnings manufacturer, we have developed a huge range of sun shade products for homes and businesses, including patio door blinds, retractable screens, sliding door blinds and insect screens that will cover even the largest of areas.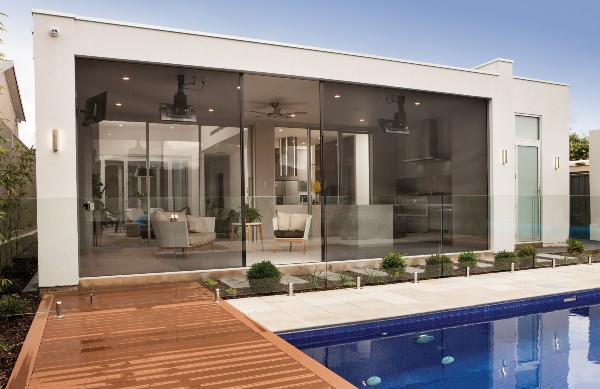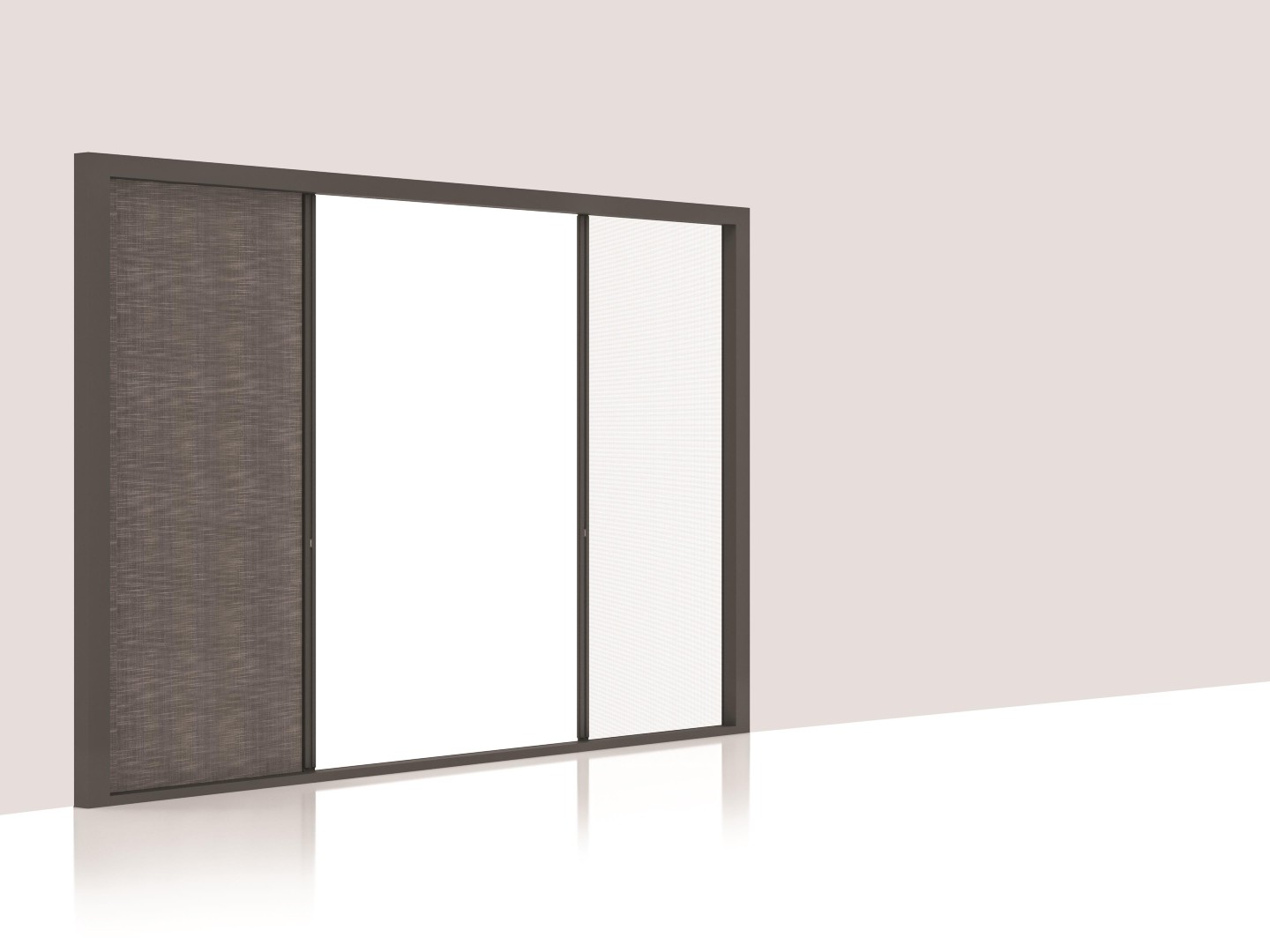 Centor S4 Screen and Shade System
Our sideways pulling screening system by Centor enables homeowners with large door openings to enjoy all the benefits of indoor/outdoor living without having to compromise on loss of privacy, sun glare or insect protection. The award winning design is the perfect solution for sliding and bifold door blinds and as retractable fly screens for patio doors.
The Centor S4 Screen and Shade System can be safely and discreetly fitted to the inside or outside of the opening and is designed to work alongside your choice of new or existing doors and windows.
Durable aluminium frame, fully colour customisable to suit the style of your home. Choose from our menu of shades and frame colours.
Custom-made to your specific requirements for large doors up to 3.2 metres in height and 9 metres in width.
Versatile solutions to pair screens and shading with French patio doors, folding or sliding doors and windows.
Unobtrusive, fully retractable design for screens and shades, with no visible wires or tension cords
Choice of external or internal installation, with easy maintenance for external sills
Full retention of screen and shade within the frame on all side, offering maximum robustness and control
Fingertip operation, allowing smooth glide action at any height, so even children can use them
Fully secured screens and shades for wind resistance and against blow-outs
5-year manufacturer warranty
Insect Screens
Our patio door fly screens come in a choice of mesh, allowing you to enjoy the outdoors during the day and night. The Centor S4 Screen and Shade System offers anti-glare sunshade on bright, sunny days as well as evenings spent without the inconvenience of bothersome insects.
Standard weave mesh – durable polyester/PVC mesh construction to keep moths, flies and mosquitoes away
Tight weave mesh – durable polyester/PVC mesh construction with a smaller aperture to offer additional protection against midges and other tiny insects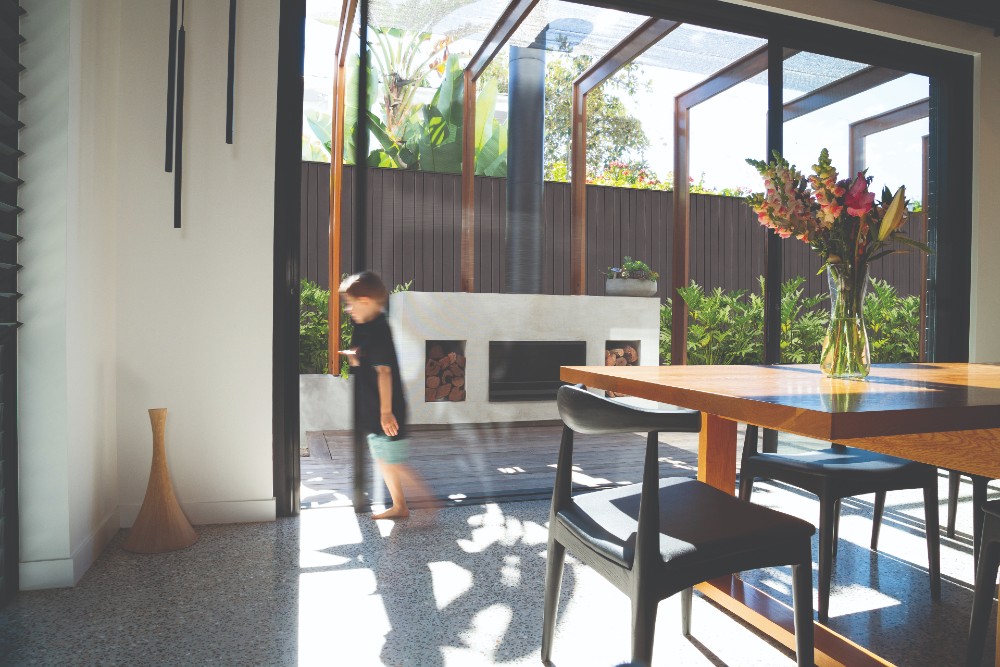 Sun Shades
Our luxury shades are available in a huge range of fabric choices in colours and patterns to suit every home. Choose between sun filtering, light filtering and blackout fabrics options:
Sun filtering – Hard wearing and easy to clean, our sun filtering fabrics can be fitted internally or externally and are perfect for reducing sun glare, solar heat gain and fading.
Light filtering – Translucent blind material that allows natural light in while keeping sun glare out during the day, and providing a degree of privacy in the evening.
Blackout – Block out the light completely for total privacy with our choice of blackout shade fabrics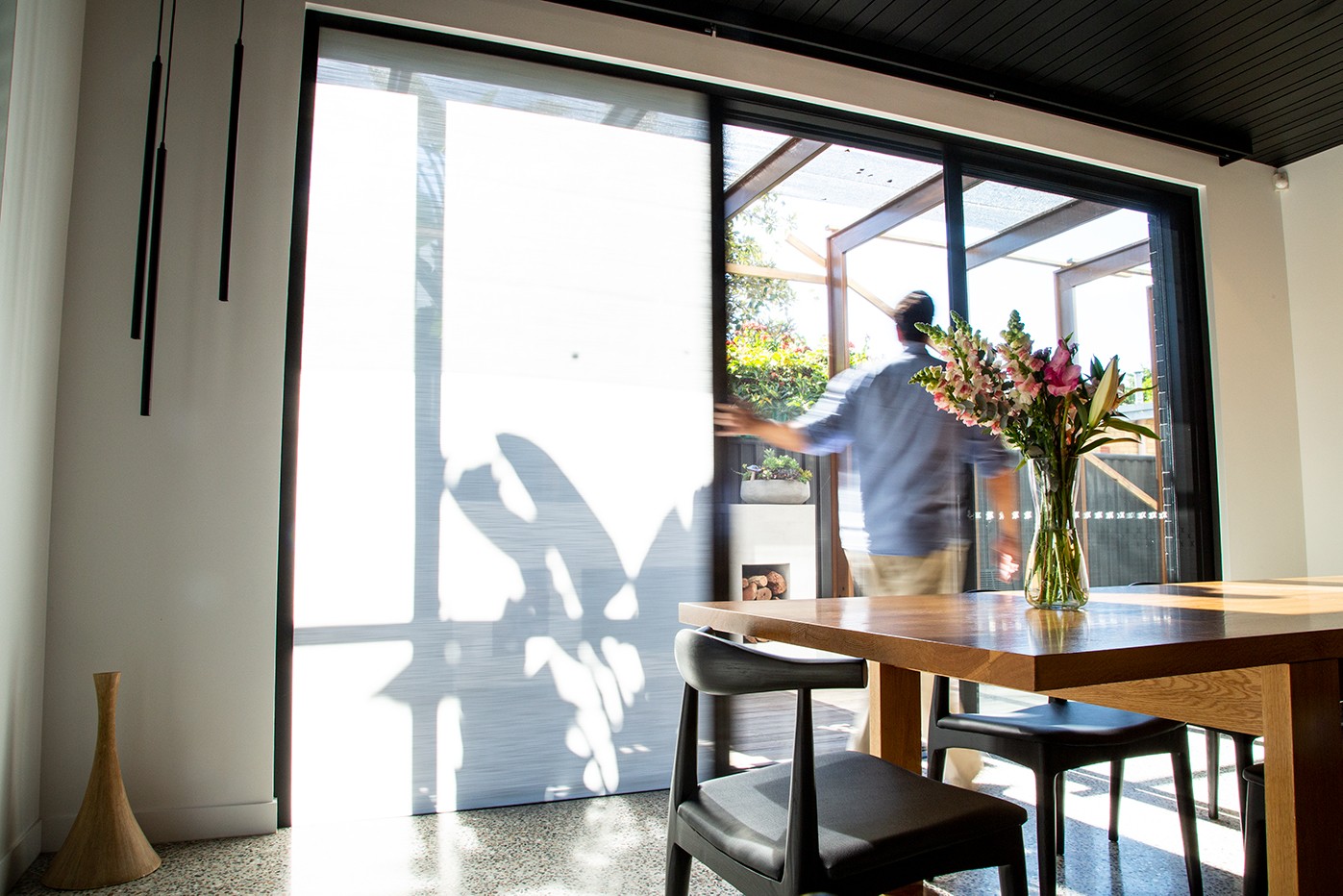 At Aquarius Blinds, we have decades of experience advising our customers on all types of sun shade and screening solutions that we can supply and expertly install for you in London, Sussex, Surrey and Kent. If you are looking for guidance about the best sliding door blinds, bi-fold door blinds or retractable fly screens for patio doors, please get in touch.