Our inspiring electric Roman blind range offers elegance in every detail and easy one-touch control. We offer a collection of high-quality materials in natural textures and tones, and stunning patterns designed to bring warmth and life to any room in the home. Our bespoke Roman blinds are made to an extremely high standard and can be upgraded to block out the light.
Classic Roman blinds are renowned for the way they elegantly fold upon every raise. Our motorised roman blinds can be raised and lowered with ease, at the touch of a switch, remote button or even an App, and rest with pinpoint accuracy to add a real sense of sophistication to your interiors.
Elegance & Beauty For All Window Sizes
No matter what size your windows, they are a focal point in almost any room. It makes perfect sense to have a window treatment that is both functional and decorative. Our Roman blinds are the ultimate window furnishing and can be made to fit most window sizes.
Home Automation Options
IPhone and IPad control
Somfy TaHoma
Home Automation Compatibility
Alexa Voice Control
Increased Security
Sophisticated & Sumptuous Fabrics
We are sure you will find a fabric you love in our collection of over 1500 sumptuous plain, checked, striped and patterned materials, but if you have a particular fabric in mind, it's no problem. We offer a "Make up" service if you prefer to use your own fabric. We can also make matching or complimenting cushions, bed runners and a host of accessories to make your rooms come together and stand out from the crowd. We are delighted to be able to offer our customers:
Over 1500 standard fabrics
Leading textile suppliers' fabrics
Make-up service in customers own fabric
Standard lining
Upgrade lining
Blackout lining
FR lining
Interlining
Bump interlining
Contrast lining
Thermal lining
Fine Functionality To Match Fabulous Form
We don't stop at looks when it comes to blinds. We also offer the ultimate in control with the latest Radio Technology Somfy® (RTS) control system. Operating your electric blinds couldn't be easier. Choose how you want to control your blinds, either at the flick of a switch, the touch of a remote button, or from your smartphone or iPad.
Our choice of easy to control options include:
RTS – Radio Technology Somfy®
12v plug & play motor
12v Lithium battery motor
12v Rechargeable battery motor
240v hardwired motor
Tahoma & Conexnoon compatibility
Home automation compatibility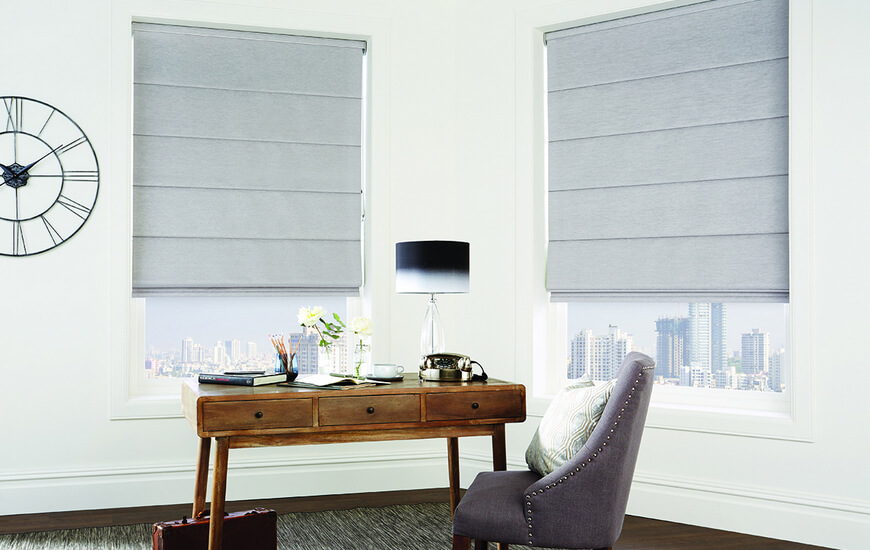 Fabulous Control Features
If you are looking for the ultimate finishing touch to your home décor, our electric Roman blinds are sure to hit the mark. Our classically attractive Roman blinds are neatly raised, lowered and folded when your blind is operated.
We offer a multitude of options for operating your electric blinds. From switches to remotes and timers to Apps, we can incorporate a simple solution specific to your requirements. There's even a timer option and easy control settings to move your blind to its preferred position. Fabulous control features include:
App-controlled from your smartphone or iPad
Home automation compatibility
Wall switches
Hand remote control
Solar powered
Light and temperature sensors
Timers
Get In Touch
Do you want to make your home look amazing? Get in touch today to find out more about our beautiful Roman blinds. Call us now on 0208 288 1081, email us at info@aqblinds.co.uk, or come and see us at our showroom for inspiration and chat to one of our expert team.
We've been making and installing blinds for over 30 years. We only produce high-quality luxury blinds because we believe in investing in the highest quality manufacturing equipment to keep us ahead of our competitors.
If you are looking for a superior blind solution, Aquarius Blinds can bring you the kind of window treatments that wow. Why not add some sophistication to your interiors with our electric Roman blinds.
FAQs
How does the RTS Blind Control System work?
 The RTS Control system is very easy to use. By simply plugging in the RTS receiver, you will be able to have full control of your blinds. You will also be able to control privacy, light and temperature preferences in an instant or via a timer which, in turn, will enable you to open or close blinds at any time of day or night without even needing to get up.
Do Roman blinds block out all the light?
 Thanks to their blackout lining, our range of Roman blinds can be highly effective at blocking out the light and sounds from outside. Plus, thanks to our make-up service, we can ensure the blinds we provide you with function exactly as you intend them to, blocking out as much light as you would like.
How much control will I have over the design of my blinds?
 Here at AQ Blinds, we work on behalf of you – the client – so we provide you with the opportunity to have as much or as little input into your blinds' design. Whether you'd rather choose from one of our 1,500 available fabrics or use another type of fabric that you've sourced from elsewhere, we will work to your exact requirements.