A garden awning is a perfect way to make the most of your outdoor space, and there are countless colours, patterns and styles to choose from to suit your home. A retractable garden awning is ideal for having greater control over the elements, whether it's sunny or rainy.
Perhaps you want an area where you can comfortably entertain family and friends, or maybe you want to enjoy your garden whatever the weather – an awning provides shade and protection throughout the year. It's also a lovely aesthetic feature to your home, adding colour and style to your garden while also being practical.
What to Consider
Choosing the right garden awning requires a bit of research and forethought to ensure that the awning you purchase is right for your space. Some considerations to make include:
Angle
The angle of your garden awning may seem like a trivial feature but it's actually important for the performance of the awning. If your windows face east or west, we recommend that the size of the drop is between 65% and 75% for the best results. If your windows are south facing, the drop can be less, between 45% to 65%, as you won't need as much coverage from the sun.
Size
The purpose of the awning and the overall size of the space will determine the size of the awning you need. A smaller awning is perfect as a decorative feature, while a larger awning delivers excellent protection from the sun and more shade for your garden.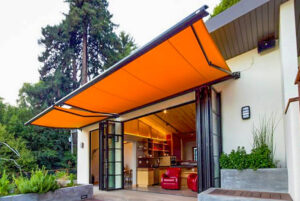 Side Panels
If you want to change the look and structure of the awning, side panels are the ideal way to achieve a unique look while also providing extra coverage from the sun.
Vertical Awnings
Garden awnings aren't only available as overhead shelter – you can also purchase vertical awnings which add shading to windows and control over the temperature and lighting inside your home. Vertical awnings with drop arms allow you to adjust the angle of the pitch for the perfect degree of shade.
Materials
You want your awning to last, so durability is an important factor to consider. When you choose the right materials, a good quality garden awning can last well over 10 years. Synthetic materials can be a great choice compared to natural fabrics as they resist staining more effectively and won't discolour as quickly.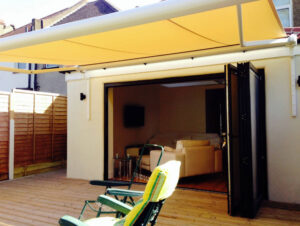 Retractable or Freestanding
The type of awning you choose is a key factor to consider. Retractable or roll-up awnings offer greater levels of control, for maximum natural light during the winter or more shade in the summer, and they're great for patio areas or decking. You can adjust this type of awning quickly when it's not in use, and with motors and switches, controlling the awning is easy. Advanced intelligent awnings also have convenient sensors that react to sunlight or the wind, so you don't need to worry about moving the awning when the weather changes.
Something to bear in mind with retractable awnings is that they're not designed to withstand heavy rainfall or high winds, so you will need to retract them if the weather is bad to ensure that it doesn't become damaged.
A freestanding awning is a popular choice for terraces or patios, and they're also ideal for segmenting a larger area to create a space for relaxing or entertaining. Freestanding awnings offer flexibility, and they can also be used for businesses to create separate seating areas for outdoor spaces.
Home Automation Compatibility
If you have a home automation system in place, you'll likely want a garden awning that can work with this system for greater convenience. Electric and automated awnings can be controlled remotely – the Markilux range, for example, has motorised remote control options and can be set up to work with your automation system in your home. Made from high-quality materials and boasting technical features, the awnings in this range are innovative and built to last.
Choosing the Right Style and Colour
Garden awnings come in a range of different colours and styles to suit your home or business space. The most popular options are traditional awnings with closed or open siding, dome awnings and waterfall styles.
Consider which colour or pattern will work well with the overall look of the property or the room that it connects to. This will create a more cohesive look that blends the indoor and outdoor areas seamlessly. Lighter colours are generally the best choice as they block and reflect the sunlight more effectively, keeping the area beneath cool and protected.
Added Features
In addition to the benefits of temperature control and protection from the sunshine or rain, there are added features you can consider when buying a garden awning, such as lighting and heating. These elements create a more comfortable space for your garden and allow you and your guests to enjoy the outdoors during the evening as well as the day.
Call Today
Your garden is an extension of your home and you want to be able to enjoy this space as much as possible throughout the year, which an awning enables you to do. Ensure that you choose a design and style that complements your home and also works well with the way you plan to use the space.
For more advice about installing a garden awning in your home or commercial space, contact us today and we'll be happy to help. We have a team of qualified staff to help you make the right choice, as well as a five-year warranty with every product for confidence in your purchase.