Patio doors are great for creating a seamless connection between the inside of your home and your garden, decking or patio. Your garden becomes like an extension of your home, making barbecues, gatherings and parties much more enjoyable, while your interior suddenly becomes much brighter thanks to the natural light flooding in.
You may be wondering why, after investing in patio doors to create more light in your home, you need to then install blinds and potentially block it back out. It's a fair question and there are several important reasons why installing blinds alongside your patio doors is essential for both your comfort and privacy.
Let's, then, take a close look at the top five reasons why you need patio door blinds in your home.
1. Controlling Light Levels
There are many valid reasons for installing blinds on your patio doors but perhaps the most important is to control the light level that floods into your home. Patio doors can act like glass walls that amplify the heating effect of the sun, something you may be familiar with if you have ever had the pleasure of sitting next to a window when we get a rare sunny day.
Not only can this light be intensely bright, causing glare and generally acting as a distraction, but it can also make your room uncomfortably hot. The addition of blinds is a way to control those light and heat levels, acting as a protective barrier against the sun's UV rays which warm your home, bleach your furnishings and even prematurely age your skin.
2. Privacy and Security
With such a large expanse of glass, you may feel somewhat exposed while you are lounging in your home without blinds covering your patio doors. Of course, patio doors are typically installed to the rear of a property but if you are overlooked by neighbours or maybe your home is surrounded by nature, then you may feel like your privacy is being compromised. Adding stylish blinds to your patio doors allows you to control how much or how little of your home is on display. This is great for reducing intrusive stares but it's also effective for security.
You can shut the blinds when you aren't at home to prevent people from snooping around. Our automated electric blinds are a great addition because you can control when they are open and closed, perfect for creating the illusion that someone is at home even if you are on holiday.
3. Acting As An Insect Screen
Being able to open up your patio doors on a warm day to let a breeze flow through your home is important for helping to keep you cool. But with flowers blooming throughout spring and summer there is an abundance of insects and they aren't typically shy about letting themselves into your home through an open patio door.
This is perhaps even more important at night when you are trying to lose the heat of the day from your home. When you leave your windows or doors open at night you will have noticed how quickly your lights attract bugs inside.
Rather than sitting in complete darkness to save yourself from a nightly ritual of swatting flies, mosquitoes and an array of other insects around your home, you can use an insect screen to remove the problem entirely and live in pest-free bliss.
4. Enhancing Your Interior Design
There are several practical benefits to installing patio blinds but they also add an additional layer of aesthetic quality to your home. Available in a range of styles and colours to suit your taste and decor, blinds are a great way to showcase your interior design flair while protecting your home from heat and light.
Whether you choose from our bespoke Sideways Sliding Door Blinds, Roller Blinds or Venetian Blinds, we can provide blinds in a variety of colours and patterns to ensure they seamlessly fit into your room, no matter how your home interiors are styled or arranged.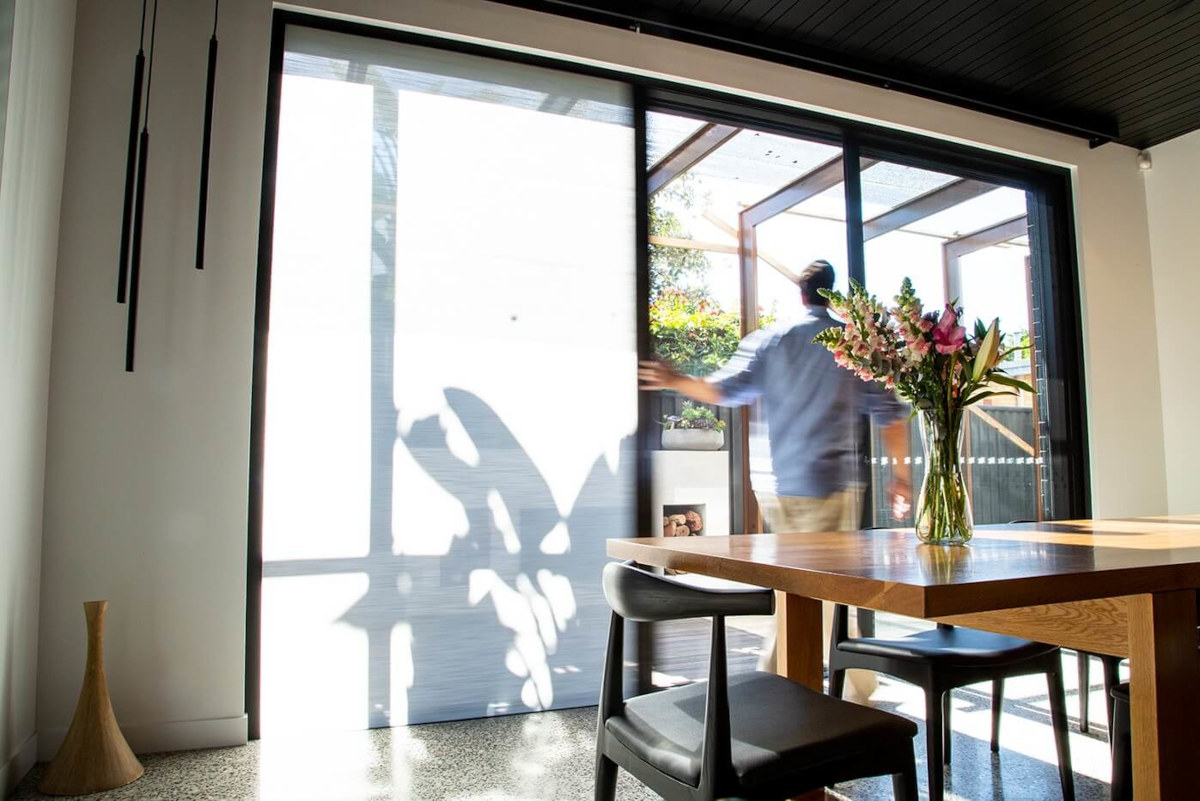 5. You Choose the View
Blinds provide a great option for large windows or patio doors because they give you complete control over what you see outside. With our Electric Venetian Blinds, you can fully retract your blinds to create unrestricted views from your home, pull them down halfway for some shade or shut the world out entirely.
Patio blinds are also less prohibitive than curtains may be, which often require manual opening and closing and are generally accompanied by netting to prevent people from looking in. Blinds allow you to change how much your view is impacted in a moment, rather than curtains which often need much more configuration for the same effect.
At Aquarius Blinds, we provide a range of blinds suitable for installation on patio doors. Our sun blinds are available in a selection of styles, colours and patterns to suit your home's styling. Get in touch with a friendly member of our team to request a free home survey via our contact page or call us on 0208 288 1081.