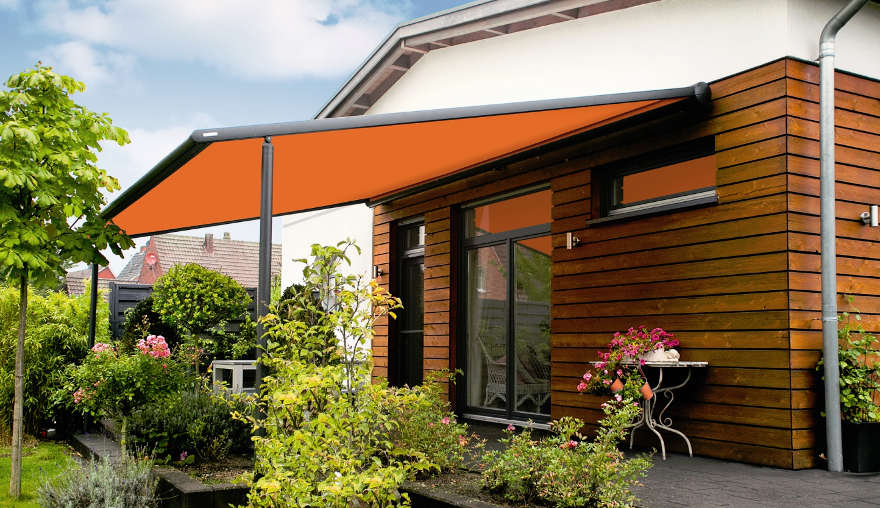 Knowing where to begin in decorating your garden can be tough. There are so many options to choose from. Do you follow the latest trends or do your own thing and get creative? Should you create a lush haven of foliage and seasonal plants, or do you keep it minimal with a patio and planters?
Whatever style you choose, one feature that's always in style and strikes the perfect balance between functional and beautiful is a pergola. In this guide, we'll answer the most common questions surrounding buying a pergola, from which material and style to choose to the benefits of installing one on your property.
What is a Pergola?
A pergola is an outdoor structure that can be used to create a canopy with a textile covering or left as a frame for weaving vining plants or lights across for a more minimal style. They're an elegant way to grow beautiful flowers, enjoy shade from the sun or create a feature for entertaining. Your pergola may come with shading or this may need to be installed separately, depending on the style you choose, as well as different sizes. In fact, larger pergolas may even be large enough to fit a variety of furniture underneath.
Uses for Pergolas
Pergolas are more than just a decorative feature, though they certainly fit the bill for that too. They can be used for a variety of purposes. For example, you may want to install a pergola with a covering to provide a shaded spot in your garden or attached to your property where you can enjoy your garden while protecting yourself from the sun.
Similarly, it's the perfect spot to spend time with friends and family, where you can set up tables and chairs and soak up the outdoor weather surrounded by string lights for evening entertaining.
Some may install pergolas to extend their living space, construct angled pergolas on the side of their property to bring the outdoors in for conservatories or living rooms that open up to the garden or patio. Or you might want to make a feature of vining plants and flowers, using the pergola as an eye-catching frame to showcase blooms throughout the year.
Pergolas are perfect for protection from the elements, especially with unpredictable British summers. You'll have shade from the sun but equally protection from light showers or a windy day, helping you make better use of your garden.
Types of Pergolas
There are many styles of pergolas on the market, from freestanding and attached to electrical and modular, or those fixed in place.
Freestanding: Freestanding pergolas and awnings are one of the most popular styles, and are often used in residential properties because they're versatile and can be dressed up easily with plants, lights or pots. Each pillar of a freestanding pergola can be decorated or if you choose a minimal frame design, you can decorate with furniture underneath. Freestanding pergolas are more traditional, however, while modern alternatives typically have motorised covers that offer more flexibility.
Attached: Attached pergolas are fixed in place, usually to the side of the property, and run from one wall and extend out into the garden, supported by two pillars that match the rest of the pergola design. They may have more than two pillars if it's a particularly large pergola, to offer support in the middle of the cover.
Floating or awning: Awning pergolas make for an impressive addition to your property and provide shade while leaving the space underneath free for anything you'd like, from seating and dining to a children's play area or gatherings. Awning pergolas are fixed to the side of the building and can be manually or remotely retracted and extended out when you want shade. They're great for gardens of all sizes because they retract back when not in use, so as not to obstruct the rest of your garden.
Shaded or open: Shaded pergolas are a great option for residential property where you want to use the space for gatherings, dining and entertaining. They prevent sun or rain from coming inside, so they're great if you live in a warmer area that is prone to spring showers. Shaded pergolas can have hard-topped or cloth coverings, but if you live in a rainier climate, a hard-topped covering is a more suitable option.
Types of Cassettes
If you choose an awning pergola, you have the option of several types of cassette openings you can choose, each with its own benefits and uses.
Full cassette: When the awning pergola is fully retracted, the arms and fabric are stored in an enclosed casing, which provides protection from rain, wind, frost and dirt. It's not necessarily needed for all gardens, but if your garden is more open you may want some additional protection against harsh weather.
Open cassette: There is no cassette with an open awning pergola, so if your garden already has ample protection from the elements, this offers a great aesthetic and is more minimal and lightweight.
Semi-cassette: As the name suggests, this is a halfway solution between a full and open cassette, offering partial protection for above and the sides.
Operational Options for Retractable Pergolas
Retractable pergolas can be opened and closed whenever it's convenient, and they come in several operation types:
Manual: A manually operated retractable pergola is opened and closed with a crank system, and they're ideal if you don't have a suitable space for electricity supply or you're retracting a smaller pergola.
Remote control: Electric pergolas can be controlled with a remote which provides the ultimate in convenience. A multi-channel remote could even enable the control of accessories like heating and lights.
Sensors: Automated pergolas fitted with sensors will open and close automatically based on the sun or wind, offering the optimal level of shade and protection based on the weather. Most sensors are connected to your electricity supply, while some come with solar capabilities.
If you have a home automation system, you can also connect an automated pergola to this system so you can control it remotely in line with the rest of your home. Several models of awning pergolas in the Markilux range have this capability and provide incredible convenience.
Choosing the Right Style and Colour for Your Home
Pergolas can be installed with different coloured coverings and in a variety of fabrics to suit your home, or for a commercial setting to fit in with your branding. You might want something neutral that will stand the test of time, or be creative and bold with a bright coloured pattern that brightens up your outdoor space.
You may also want to tie the colour or pattern in with the room it's next to, to create a cohesive look. It's worth remembering, however, that lighter colours are better for blocking and reflecting sunlight so if you want to keep the area underneath cooler and protected from the sun, opt for a lighter shade of covering.
Added Features and Accessories
In addition to customising your pergola with coloured coverings, you can also enhance the space with accessories to create the right environment for you and your family. For example, you may want to add heaters so you can use the area in the cooler months, or lighting to create a cosy atmosphere.
A Choice of Pergola Materials
Another decision you need to make when buying a pergola is the material you want it to be made from. While wood is a common material for freestanding pergolas, attached pergolas are more commonly made from aluminium, steel or fibreglass. This provides additional strength and stability, and also avoids the risk of the material rotting which is a problem with wooden pergolas.
Again, if you live somewhere that's subjected to a lot of rain and windy weather, a more stable material such as aluminium or fibreglass will ensure your pergola is secure and won't deteriorate in those wetter conditions. Wooden freestanding pergolas require a lot of maintenance and regular treatments to prevent water damage.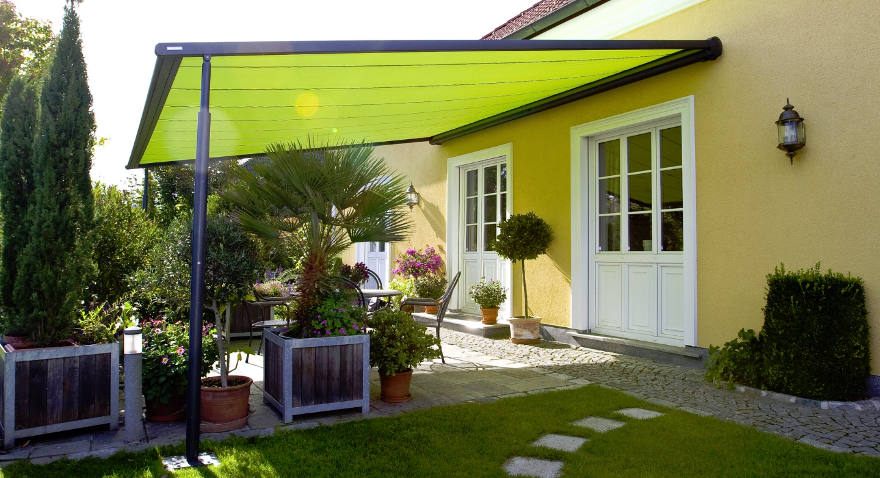 An Elegant Addition to Any Outdoor Space
As we've seen, there are various styles of pergola to choose between to add utility, elegance and even colour to your garden or patio. Whether you want a shaded spot for your kids to play safely during the summer, somewhere chic to relax and dine with friends or a decorative addition to your home that extends your living space, a pergola can be adapted to be all of this and more. It's a way to transform your garden and make it more functional too.
We offer a wide selection of high quality pergolas from leading brands that are built to last and can be customised to your specifications, from size and fabric to manual or motorised operations for added convenience. There are also many accessories you can buy to customise your pergola and make it more suitable to your lifestyle. Browse our pergola range online or get in touch with our team to find out more.