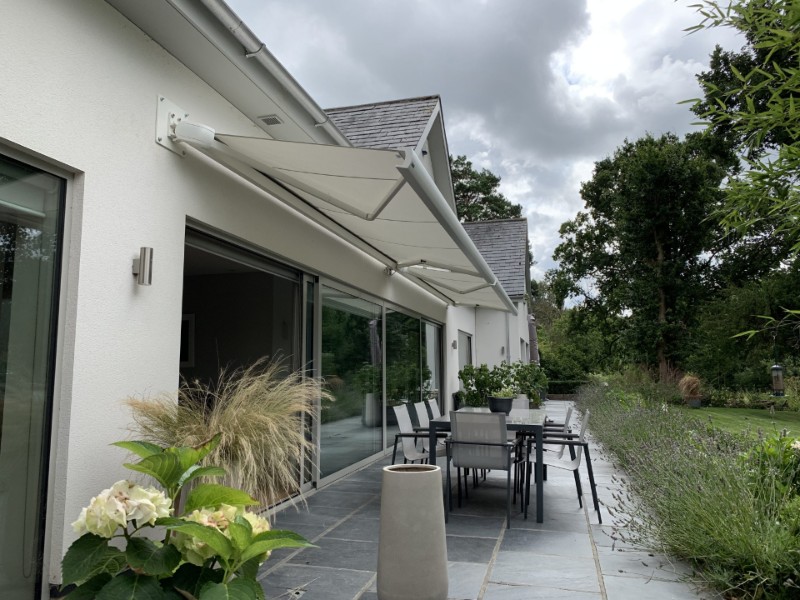 A retractable awning is a great solution for anyone looking to create a more comfortable, shaded area in their garden. They offer flexibility and enable you to make better use of your garden or patio. With so many styles to choose from, there are options to suit every property. Here are our top reasons to get a retractable awning for your own home.
A retractable awning provides flexible shading
The primary reason to choose a retractable awning over any other type of awning or pergola is that they can be opened and closed whenever you want, whether you choose a manual awning or an electronic one. Whether you want shade from the midday sun on a hot summer's day, protection from the light summer showers on those days when the weather is a bit more unpredictable, or you want a little extra light in the afternoon, it's down to you.
It's easy to create the perfect outdoor environment for your needs and based on the weather, so you're not limited in any way. And when you want to browse social media on your phone or watch a show on your laptop, you don't need to worry about screen glare.
It can be closed during severe weather
With a non-retractable awning or patio cover, you run the risk of it becoming damaged during severe weather conditions. When there are high winds, intense storms or hail, your awning could become damaged which means a costly repair on the horizon. However, with a retractable awning, the folding lateral arm can be pulled back during a period of bad weather, so it will remain undamaged until the weather's nice enough again for you to return to spending time outdoors.
Naturally, any property owner needs to be careful with an awning, retractable or not, because each product will have its own limitations on wind speeds and rainfall that it can cope with. Read up on the limits of each model so you can make an informed choice for your location and the type of weather you tend to receive.
Protect your patio or decking
If you have a patio or decking area in your garden, or you've had previous properties with these areas, you'll know that the sun has the potential to 'bleach' colours from wood and other materials. It can drain the richness from the likes of patio stones, furniture or decking, which can be frustrating for property owners. But a retractable awning can help to shade these areas which prevents sun bleaching and damage occurring to your outdoor furniture and flooring. What's more, retractable awnings can be fitted with sun-resistant fabrics for added protection during sunnier weather.
Plenty of opportunities for customisation
A retractable awning is an investment into your home, so you want it to suit the style of the property and your lifestyle. Luckily, you're not restricted when it comes to choosing the right retractable awning for your property. There are so many designs, sizes and mechanisms to choose from, whether you want an electric opener for added convenience, an automatic sensor that will open and close depending on the weather, or a manually operated awning.
There are plenty of options to fit with the style of your property for a personalised feel that fits your needs and budget. Maybe you're looking for an awning to cover a patio area so you can relax with family and friends and entertain? Perhaps you want to install a cover over a hot tub or a plunge pool so you can enjoy these amenities more often without worrying about the weather? You might want to install it over a patio door opening so that you can extend your living space and enjoy an indoor-outdoor feel throughout the summer.
And then there's the fabric choices and additional features such as lighting, heating and tablet or smartphone control. All these details can be considered to create a product that's really tailored to how you use your outdoor space.
A worthwhile addition to your home
Retractable awnings are a great addition to any outdoor space, helping you to maximise and extend your living space and enjoy your garden or patio for longer throughout the year. From keeping little ones sheltered from the sun when they're outside playing to enjoying a relaxing space to read or unwind, having a shaded spot in your garden can make all the difference to how you use the space.
Our team is highly experienced, so we can help you decide on the right retractable awning for your property, from choosing the model and size to customising it with additional features to suit your home. Why not get in touch to discuss the options today?