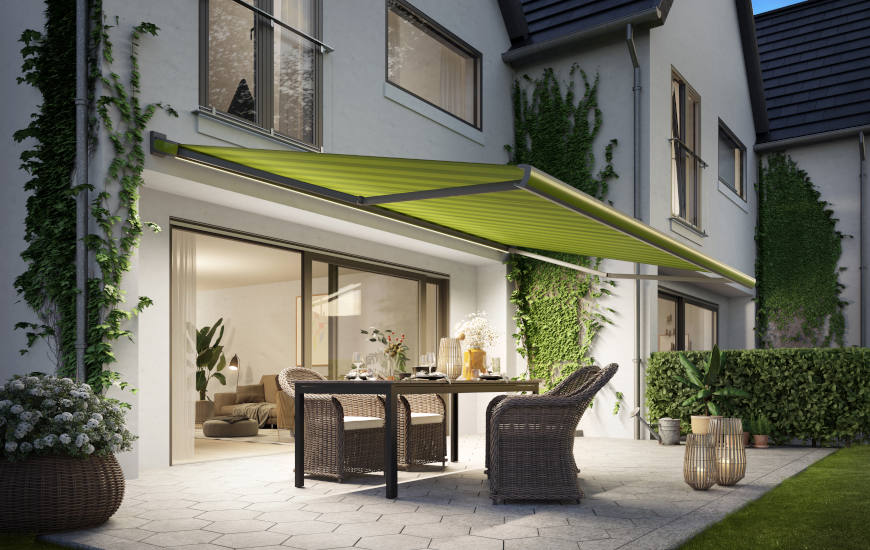 Awnings are the ideal way to create a shaded spot in your garden or patio, extending your living space and providing the perfect location for outdoor dining and entertaining. With so many styles on the market though, how do you choose the right awning for your home?
The Markilux MX3 awning is one of the leading options on the market, and with good reason – it's an innovative awning that's technically efficient and visually appealing. Let's take a look at the MX3 awning and why it's such a popular option for so many of our customers.
A unique design
A German design award-winning awning, the MX3 is a high-quality cassette awning which can be tailored to your individual needs, from colour options to lighting for a design variant that fits your style preferences. All Markilux's awnings are tested in the northern German climate, one that's similar to the UK, so you can be sure that it'll withstand the elements here.
The unique cassette design encompasses all of the fabric awning during the winter months and hides the roller tube when your awning is in use on the sunnier days. It's a solution you're unlikely to see elsewhere, providing an unobtrusive finish that combines clean lines and appealing curves for a stunning result for a range of property styles. And with optional automation and slick remote control features, it's a pleasure to use too.
Slimmer profile
The MX3 has a slimmer, more compact profile at only 120mm high and 230mm deep, making it look far less bulky than traditional awnings. The clean lines and rounded contours are ideal for accentuating the architecture of your home. Another innovative feature of the MX3 is the bionic arm that is a refined version of the classic folding arm design, keeping the awning operating in the background for a sleeker look. Made from drop forged aluminium and stainless steel, it's a hardwearing yet virtually silent awning that is corrosion resistant and delivers durability.
Great for bifold doors
The MX3 awning is a particularly good fit for wider bifold doors, as it's an end fix awning which can be made up to six metres wide to suit the size of your bifold doors perfectly. It's ideal for single-storey extensions since a traditional awning typically requires spreader plates fitted to the wall. The MX3 doesn't require a central bracket which creates a cleaner result and easier installation.
Can be tailored to your property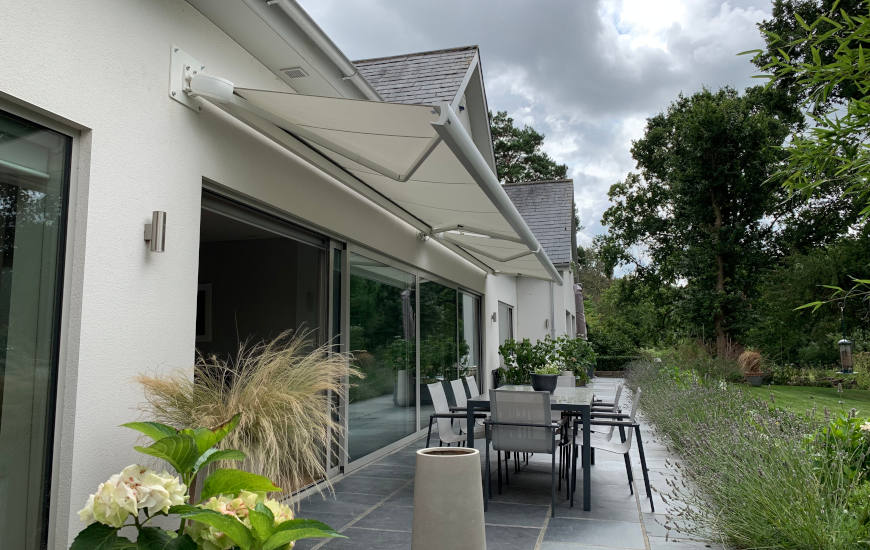 One of the reasons the MX3 awning is such a popular option is that it offers numerous opportunities to tailor the design to your own specific requirements. There are integrated LED lighting options for enjoying your outdoor space into the evening, as well as a range of colour and fabric options to add personality to your garden. And as a designer-led system, the body panels come in a range of colour options too. Add a radiant heater to create a warm space in the cooler months, helping you make the most of your outdoor space.
The pitch for this particular awning can be set anywhere from 5 to 30 degrees to suit your property style. The Markilux MX3 can be manually operated with a crank drive or installed with a quiet remote-controlled motor for added convenience. It's also a smart awning, so it has wind and sun sensors that will retract or extend as needed as the weather changes throughout the course of the day.
An innovative way to enjoy your outdoor space
Sitting out in the garden to relax in the sunshine or making the most of great weather by entertaining friends is a popular way to spend downtime for so many people. Awnings make those experiences much more enjoyable. They protect you from UV rays, provide a shaded spot when the sun is at its highest and ensure that you have somewhere to retreat to during those unexpected spring rain showers. The MX3 is a popular option for its sleek design, innovative features and customisation options.
Inspired to install the MX3 in your own home? Why not get in touch with us to discuss the options or to book a consultation. We have over 30 years' experience and offer a wide range of customisable sun blind and awning products to choose from.