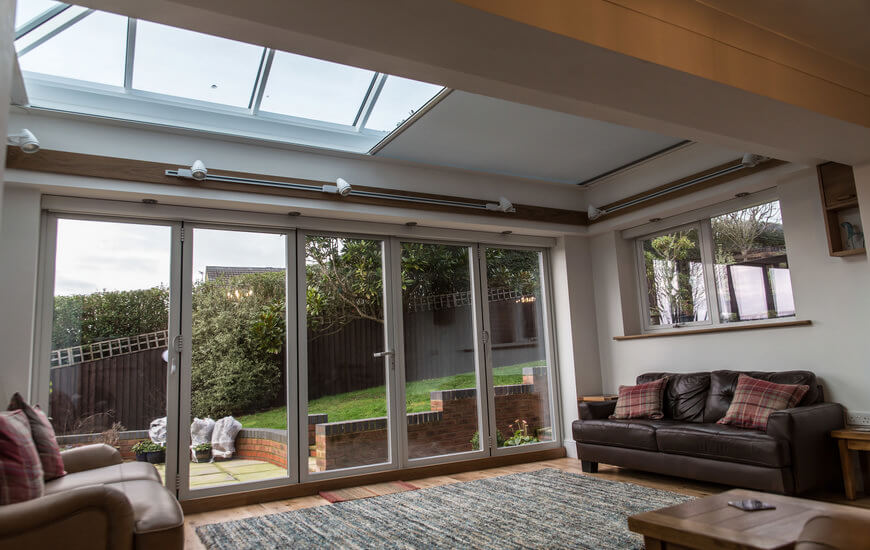 The natural light that pours in through skylights and roof lanterns makes them desirable additions to any home. Skylights are a great way of brightening a loft extension while a roof lantern makes for a spectacular focal point in a kitchen or hallway.
Yet it's important to be able to control the amount of light that comes in; no one wants to find themselves squinting at the TV due to glare from direct sunlight, or feeling uncomfortably hot in a bedroom. That's why it pays to consider the best treatments for your windows.
Blinds are a great option for windows fitted at a height as they can be custom-made to exact dimensions and are easy to adjust from below. But it can be daunting to navigate the huge range on offer. This is where Aquarius Blinds can help. Our knowledge and years of experience means we can advise on choosing the right blind for you, then get it installed in your home. Whatever the requirements of your window, we will help you find the solution.
Our systems can cover areas of up to 6.8 x 13 metres, meaning they can be fitted on even the largest opening. Blinds come in a wide variety of colours and fabrics and include features such as thermal heat reduction and anti-glare solution. They are compatible with home automation systems – allowing you to open or close them at the touch of a switch, or remotely via an app – and with voice automation. If you haven't used this technology previously, we'll talk you through it and have you up and running in no time.
So, let's look at some of our favourite options for skylights and roof lanterns.
Safeguard RL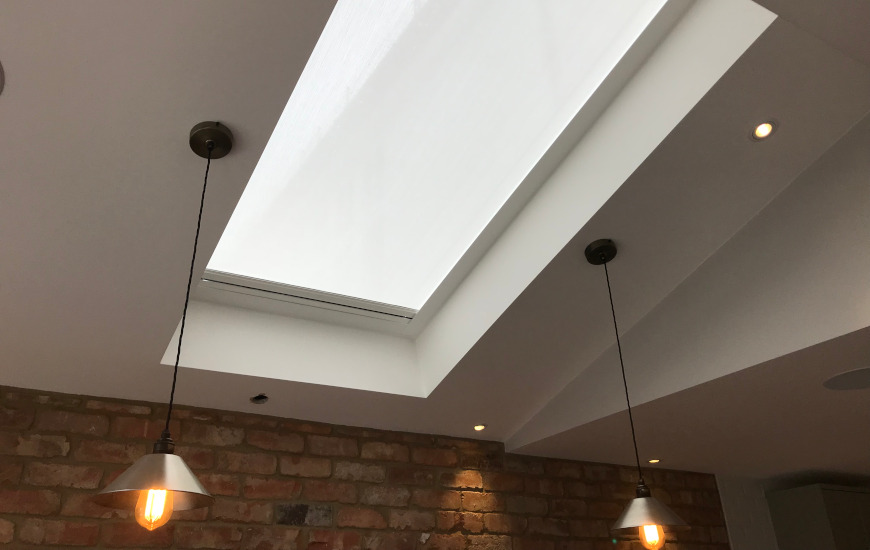 Whether you choose the motorized or manual option, slim Safeguard RL lantern blinds offer an elegant and discreet solution. Choose from a range of blackout or screen fabrics, all produced for
longevity and stability even in harsh light. Optional extras include a sun sensor for automatic operation, a choice of wireless wall switches and mobile app control.
Markilux 779/879 under-glass shade system
German-engineered by Markilux – renowned as one of the world's best sunshade manufacturers – you are assured of sophisticated craftsmanship and great aesthetics when you choose this system.
Angular guide tracks and a clever tensioning system mean this model is ideal for large glass areas, both horizontal and vertical, and can cover windows of up to 27sqm. Choose from a square or round cassette style and add lighting combinations in both LED spots and strip lights to lend atmosphere and drama.
This clean and sleek exterior awning is designed for medium-sized flat or pitched glass roof lanterns and is great for keeping interiors cool and inviting on sunny days. Able to cover areas 4000mm wide by 4000mm long, it comes in seven standard frame colours with fixing brackets to suit almost any design or angle. A choice of 240 fabrics offers the opportunity to incorporate your own colour scheme, making for a seamless fit in any interior.
Pleated Duette roof-light blinds
These stylish blinds can be fitted to almost any window but are especially well suited to roof lanterns, skylight windows, conservatories and orangeries with horizontal or sloping windows.
Whatever your requirements, there's a Duette blind to suit. Our L1 and L2 systems are available as manual, electric or rechargeable and can be integrated into most home automation systems. Controlling your blind is simple whatever option you choose; extendable operating poles reaching up to 3m make it simple to adjust manually or they can be operated electrically with either a handheld remote, wall switch or via your phone or iPad.
If you would like to learn more about our blinds, give one of our friendly experts a call today.