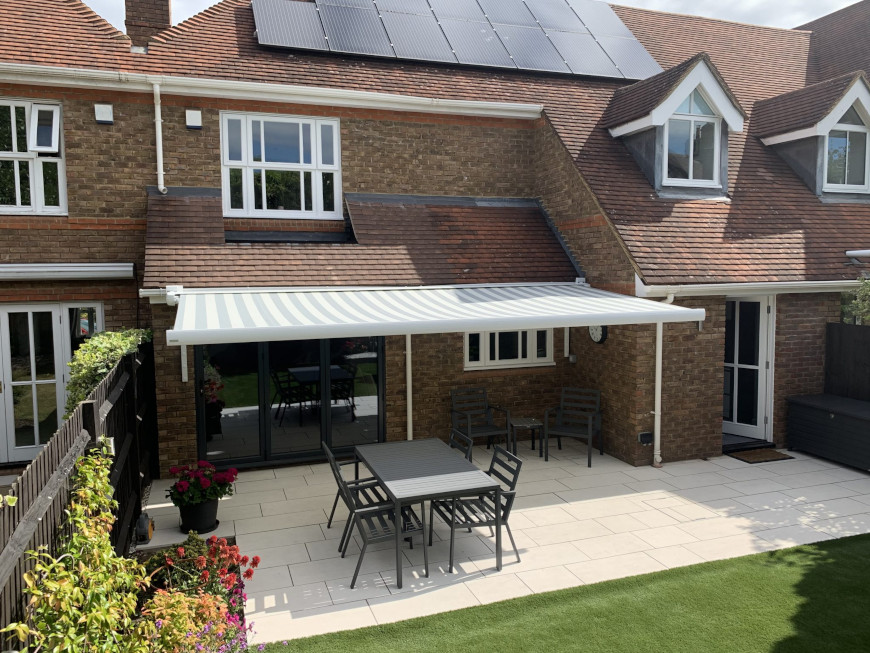 It's lovely when the weather warms up and you can finally get outdoors and enjoy the sunshine, but too much sun can be uncomfortable. A patio awning is the perfect compromise, enabling you to open up your home to spend more time in the garden without being exposed to the elements. Attractive and practical, a patio awning is a rewarding asset to have in your home and offers many benefits for homeowners that you can enjoy for years to come.
1 – Shade from the sun
We all know that too much sunshine can be harmful to our health, particularly for young children, elderly people and pets who can be more vulnerable to the effects of too much heat. Installing a shaded area with a patio awning gives you a reprieve from the intensity of the sunshine when you need it, while still enabling you and your family to enjoy the summer season. And for families with little ones, it provides a safe place for them to play outside without the risk of them spending too much time in the sun.
2 – Protection from all weathers
The British weather is notoriously unpredictable, and while you may be enjoying the sunshine one minute, there's every chance you could be faced with showers the next. Having somewhere to retreat to when the weather turns means you still get to enjoy your outdoor space during a temperamental downpour. A retractable awning can be a great investment to make opening and closing your awning even quicker and easier, so you're always protected, no matter the weather.
3 – Enhance the exterior of your property
There are so many styles of awning to choose from, whether you want a classic style or a contemporary, colourful look, there's an option to suit your property. Patio awnings add something special to your home, while also being functional. They have an understated elegance and can work wonders in improving the value of your home.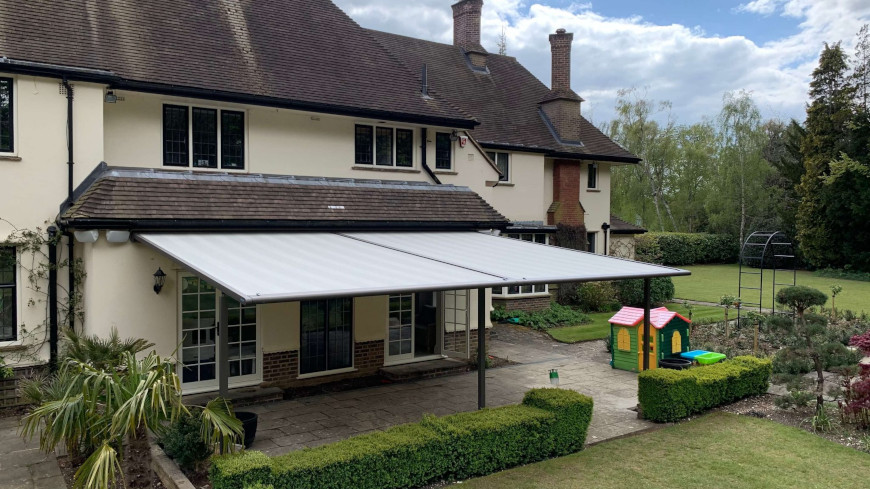 4 – A dedicated space for outdoor dining
There's nothing better than enjoying a meal outside with family and friends during the summer but doing so under shade can make the experience all the more enjoyable. Our awnings can be installed with a host of accessories to create the perfect dining area, including lighting and heating, so you can entertain in luxury and really make the most of your outdoor space.
5 – Work in comfort outside
Now that more of us are working from home, there's the constant challenge to find a comfortable, quiet place to get work done. With a patio awning, you will have a shaded spot surrounded by peace and quiet, and plenty of natural greenery to inspire you while you work. Plus, the shade overhead will minimise screen glare.
6 – Extend your living space
A canopy is an affordable way of extending your living space without the need to fund a home extension. Whether your awning is over a kitchen or living room, it gives the illusion of more space while also enhancing the kerb appeal of your property. What's more, any outdoor furniture you have will be protected against the sun and rain too, making sure it lasts as long as possible and stays in the best condition.
7 – Save on energy
Air conditioning units and fans may be effective when the weather warms up but they also use a lot of energy and can be expensive to run. A well-placed awning protects your home from the full force of the sunshine, so the interior doesn't heat up as much. This keeps your home at a more comfortable temperature and reduces the need for A/C and other cooling devices, which ultimately saves on your energy use.
A flexible solution
Whether it's for aesthetic purposes, to extend the living space in your home or to help you make better use of your outdoor space, a patio awning is a practical and flexible solution that can be tailored to your needs. From the size, colour and pattern of the awning to manual or motorised models, there are awnings to suit every type of property, from modern new builds to traditional style buildings.
We offer a wide range of patio awnings to choose from, from the leading names in the industry. To book a consultation or if you have any questions about the products we offer, please don't hesitate to get in touch with our team.