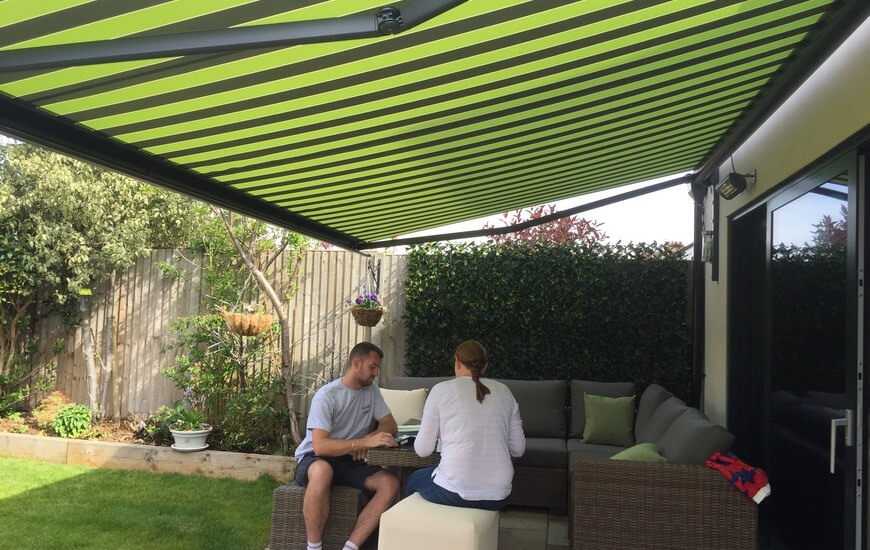 There's plenty to consider when choosing an awning for your property to ensure that you have a comfortable and hassle-free space for entertaining and relaxing. There are many advantages to installing a garden or patio awning, from providing protection from the sunshine to keeping a comfortable temperature by regulating the heat.
Throughout the year, even on the hottest days, you'll be able to enjoy your garden and relax in the shade. Installing an awning can also extend your living space to give you more space beyond your home. With our garden awnings guide, you'll have all the information you need to make the right choice for your home.
Measuring for an awning
The purpose of a patio awning is to provide protection from the elements, so in order to ensure it delivers efficient protection, you need to determine the right awning size. There are a few rules to follow to make sure that the awning offers sufficient shade.
Firstly, the awning needs to be larger than the area you want to cover, as well as wider than any windows or doors. Most awnings are at least 3 metres in width. You also need to remember that the direction of the sun will move throughout the day so there needs to be an adequate width to provide shade for the whole area.
You then need to determine the maximum length of the arms when unfolded, which is known as the arm projection. Most awnings have a projection between 1.5 to 4 metres, with the most common measurement around 3.5 metres. There are other measurements to bear in mind, including the distance between the doors or windows and the roof, the depth of the area you want to cover, the type of area you're covering and the height of the lintel.
Choosing the right fabric
There are several types of fabric for awnings, depending on the level of heat retention, UV-resistance and water resistance you need. The most common fabrics for awnings are polyester, acrylic and micro-perforated fabric.
Polyester is sensitive to UV rays so they can deteriorate over long periods of time, but they are ideal if you only want to use your awning occasionally and they are very cost-effective. Acrylic is highly UV-resistant and is easy to maintain, so it lasts well. It's also a rot-proof material that is ideal for outdoor use as it delivers great durability.
Lastly, micro-perforated covers are UV and tear-resistant, and they can be cleaned easily. In addition to being rot-proof, this fabric is also great for air circulation so it's a popular option for awnings.
Manual or electric?
Manual awnings are the most cost-effective option but consider the size of the awning you need before making this choice as you may find that the larger the awning, the more difficult it is to handle. If you're choosing a larger awning, electric awnings are a great solution as they provide ease of use and convenience.
Choosing the right awning style
Once you've decided on the right fabric for your garden awning, you can then consider the style you want for your home. Think about how you want to use your outdoor space so you can invest in the right cover, such as automatic blinds that make controlling the temperature and heat more convenient than ever.
You should also think about maintenance and how much time you have to devote to cleaning and taking care of the awning itself, as certain fabrics are better suited to easy maintenance than others.
Design is important, as your garden is an extension of your property, so it needs to blend with your taste, furniture and plants. Awning covers come in a range of colours and patterns, from block colours to stripes and ultra-smooth silk textured fabrics.
Whether you want a classic, neutral feel to your awning or something more contemporary and modern, there are options to suit every property. By choosing a complementary style or colour, you can create flow and cohesiveness between the interior of your home and the exterior.
Key takeaways
A garden awning can elevate your outdoor space considerably, as well as offering practical benefits for you, your family and your guests. The tips in this guide can help you make sure that you choose an awning that meets your requirements, from the colour and design to whether you choose manual or electric, and the size of the awning you need.
If you need advice when choosing your garden awning, we can help. Get in touch with us today for more information.