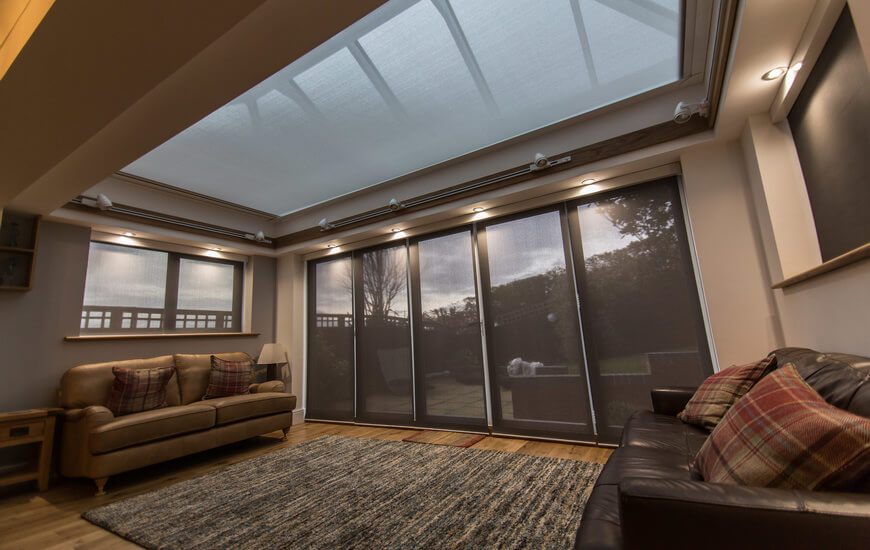 If your home has a roof lantern, or you're thinking about installing one to maximise the light in your home and open up a room, then having well-fitted blinds is essential. Often, roof lanterns can let in too much light, so having blinds in place will give you more control over the level of light in your home.
That said, if you get standard roof lantern blinds, you might find that they don't look as sleek and modern as you might have been expecting. The reason for this is that standard blinds have visible support wires that detract from the overall look of the skylight and impact your view. Choosing a wire-free roof lantern blind makes all the difference to a space – here are some of the benefits of choosing a wire-free roof lantern.
Clear, unobstructed views
With a wire free roof lantern, you won't have anything getting in the way of your view. The blind is installed with a cassette system so that the edges of the fabric are held flat with a 'zip' runner that's attached to the blind. The fabric is high strength and durable, so it can withstand the motor pulling it back and forwards. Compared to a traditional roof blind, which requires support wires to keep it in place, this is much cleaner and creates a uniform appearance.
Our roof lantern blinds don't have any support wires, so you'll get completely clear views when the blind is retracted. What's more, since your blind will be made to fit the space, the blinds will completely cover the roof lantern and you won't need to worry about any dangling wires making the room look messy. There won't be any gaps along the edges of the blind, so you can reduce glare more effectively while also reflecting heat away in the summer and keeping cold air out in the winter.
A sleeker finish
Wire-free roof lantern blinds give you a sleeker result for your home, enhancing your décor rather than distracting from it. With no support wires to worry out, you can fit larger blinds which will cover even the largest of roof lanterns, with the blind measuring right up to the full expanse of the window. We can supply blinds of all sizes, so regardless of the shape or size of your rooflight, we can create a blind that fits perfectly for better lighting control, thermal efficiency and privacy.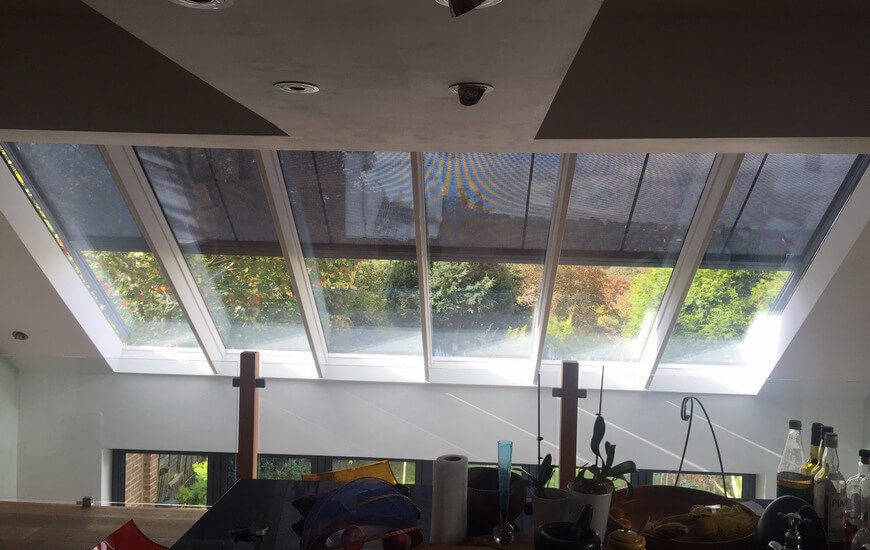 Smart operation
With wire free lantern blinds, you can take advantage of smart technology within the design, which not only maintains that sleek and modern look but also makes operating your blinds a breeze. Our electric blinds have a quiet motor and are easy to use via a remote control or home hub system, so you have complete control over the lighting in your home without needing to manually operate anything. Smart operation isn't just helpful in terms of convenience. It also helps your blinds to last longer, since a wire-free roof lantern blind won't fold or crease up when you're using it, so it will retain its crisp appearance for much longer.
Thermal efficiency
With a wire-free design, you don't have to factor in gaps at the sides of the blinds. The blind can be fitted to the full expanse of the window, which keeps light blocked out, but it also retains warmth in the winter and reflects the sunshine away during sunnier days to keep the room cool in the summer. You can install thicker, pleated materials for even greater efficiency, for increased insulation and heat reflection when you need it most.
Wire-free roof lanterns are seamless, stylish and more efficient than blinds with support wires, creating a clean look for your home without compromising on the level of light control you'll have. To find out more about wire free roof lantern blinds, get in touch with our friendly team today. We provide made-to-measure blinds in a host of different fabrics and patterns to suit your home, including electric blinds and blackout fabrics for bedrooms.