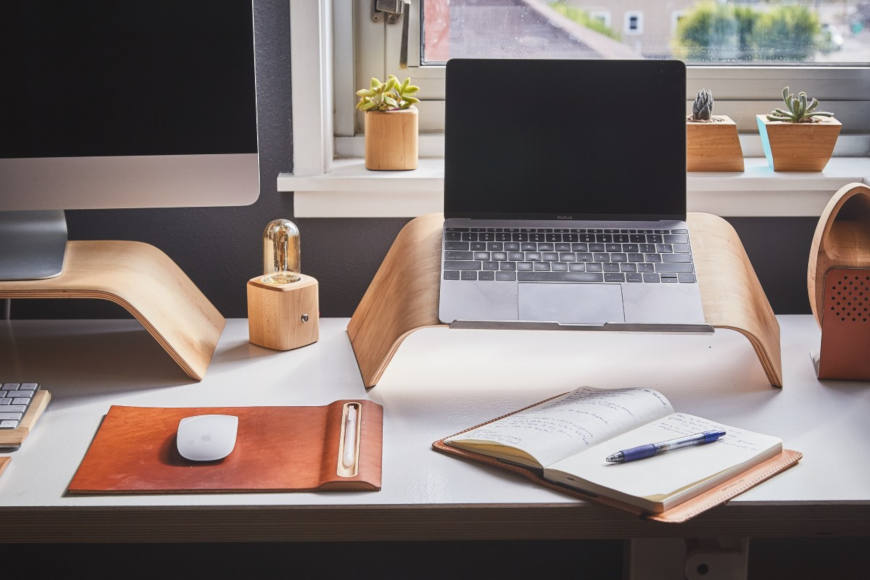 Following on from the chaos caused by the coronavirus pandemic, millions upon millions of workers around the world have been left with no choice but to work from home.
While many may see this as a good thing – gaining a newfound freedom to work more flexibly – some people will be missing the office environment and having a space set up where they can work without interruption.
So, why not set up your own office space at home?
Regardless of how much space you have available, with a little motivation and effort, it can be easy to transform your remote working experience into a highly productive venture. Here's how to do it:
Step 1: Identify Your Space.
There are a few things you need to consider when deciding where you want to set your home office up. Firstly, you'll need to think about the size of the area you want to work in and the equipment you have available.
Try to avoid cramming yourself into a small corner of a room and look at alternative set-ups which utilise the space you have available.
Whether you have a free-standing desk or more of a makeshift platform, ensure your desk is at an appropriate height for you to work at. If you use a laptop, the top of your screen should sit just below eye level to combat any neck or back problems.
Similarly, you should work in an area of your home where you won't be affected by the heat, direct sunlight or shade.
If you want to work in the conservatory, for example, the direct sunlight overhead could not only affect your ability to see your screen but how hot you get during the day as well.
Therefore, why not consider fitting either a skylight roof lantern blind  or a home conservatory blind to help combat this. You could notice a big difference in doing so.
Step 2: Try To Mimic The Office Environment.
As we've mentioned already, your home workspace setup will largely be determined by the equipment you need.
Therefore, before you get going with it, gather your office essentials and try your best to recreate the office environment you're used to.
Place your desktop or laptop at the appropriate height and select a chair that ensures good posture throughout the day. Also, decorate your desk with plants, photos or various other gadgets. Small potted plants not only help replicate the feeling of being outdoors but also clean the air of toxic pollutants.
Offices are typically designed to offer privacy as well, enabling you to concentrate throughout the working day. Therefore, when it comes to your at-home office set-up, an electric vision blind could be a great option.
These not only allow you to control how much light you let in but they can also be controlled using your smartphone, making it easier for you to focus on the tasks that matter.
Step 3: Think About The Lighting.
Paying close attention to your home office's lighting is essential for ensuring a productive day at work.
Natural light has been proven to have positive effects on your wellbeing, especially while at work, so try to set your home office up in a room with a window and ideally an electric blind that's easy to control.
If you don't have any rooms with windows though, a lamp that replicates daylight patterns as the day goes on could offer a great alternative.
Working in a room for long periods with only artificial lighting can contribute to feelings of tiredness, stress and cause conditions like eye strain. Therefore, having the right lighting throughout the day can help reduce headaches and keep you focused on your work.
To help with this, electric blinds with blackout capabilities can make a substantial difference. Alternatively, working outside under a heat and shade proof awning or next to an open floor-to-ceiling window with sliding door blinds can give you that dose of fresh air whenever you need a quick break.
Step 4: Avoid Distractions.
Avoiding distractions is arguably one of the biggest difficulties when it comes to working remotely, especially if you have children or pets.
Therefore, try to set up your workspace in a room with a closable door to offer a sense of peace. Also, enlist the help of other household members to share the responsibility of keeping your family entertained while you work.
Similarly, with the number of gadgets often found around the home, it's important these aren't removing your focus from the tasks at hand. Whether you use a mobile phone or tablet alongside your laptop, silence your notifications during working hours for all non-work related apps.
Finally, allocate yourself rest periods throughout the day to enjoy a cup of coffee or tea – preferably sat outside under a garden or patio awning. Having regular breaks from work is one of the most effective ways to ensure you stay productive throughout the work day.
Here at AQ Blinds, we stock a huge selection of blinds and garden awnings which can transform your at-home working environment. Whether it be through light control or a newfound ability to work outside under a shaded environment, why not contact our team today to see how we can help?