The days may be getting shorter and the nights may be drawing in but that doesn't mean you can no longer spend time relaxing on the patio. All you need is some outdoor heating to keep cosy and warm under your patio awning.
A traditional gas patio heater may be your first thought for an effective outdoor heating solution. They're aesthetically pleasing, come in a wide choice of designs and produce a natural flame, all at a price that's affordable. However, they take an age to warm up and, when they do, are incredibly energy inefficient, which takes its toll on the environment. Some years ago, EU ministers even discussed the possibility of outlawing patio heaters on account of their hugely energy wasteful nature. So, is there a better alternative?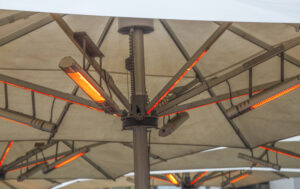 Yes, there is. A new generation of outdoor heaters for awnings uses infrared technology that can provide enough heat to keep you toasty on cool crisp days, so you can relax alfresco all year round. Best of all, they're clean, safe and silent. Here are the top six benefits in a nutshell:
1. Instant heat
No waiting around for your patio heater to get warm. Infrared outdoor heaters heat up very quickly, so you can enjoy outdoor warmth as and when you need it.
2. Consistent heat 
Awning heaters are designed to target the area directly underneath. Position your heater under your garden awning and over your outdoor seating and feel the warmth where you want it.
3. Sustainable 
Compared to their gas and oil cousins, awning heaters don't emit harmful gases. More than 90% of the electricity is converted into heat, which means very little wastage.
4. Cost efficiency 
Compared to gas heaters, awning heaters are economical to run, are connected to mains electricity and therefore don't need topping up, which makes them great value for money.
5. Compact size 
Conventional gas patio heaters can be rather large while infrared awning heaters are small and unobtrusive, giving you more space on the patio to entertain your guests.
6. Noise and odour free 
Without a fan or motor of any kind, infrared awning heaters operate silently and produce no soot or odour, leaving you to enjoy your garden in peace and quiet.
Last but by no means least, awning heaters are easy to install and to position for optimal benefit to you and your guests al fresco. Using either a wall switch or remote control, you're in full control and can easily regulate the amount of heat at the touch of a button. What could be nicer than sitting on your patio in gloriously warm conditions whatever the season?
At Aquarius Blinds, we've been supplying and installing blinds, awnings and accessories in homes and businesses for over 30 years, and we are renowned for our in-depth product knowledge. There's a wide choice of infrared awning heaters on the market, so if you are looking for professional advice about choosing the best solution for your patio, please get in touch – we're here to help.