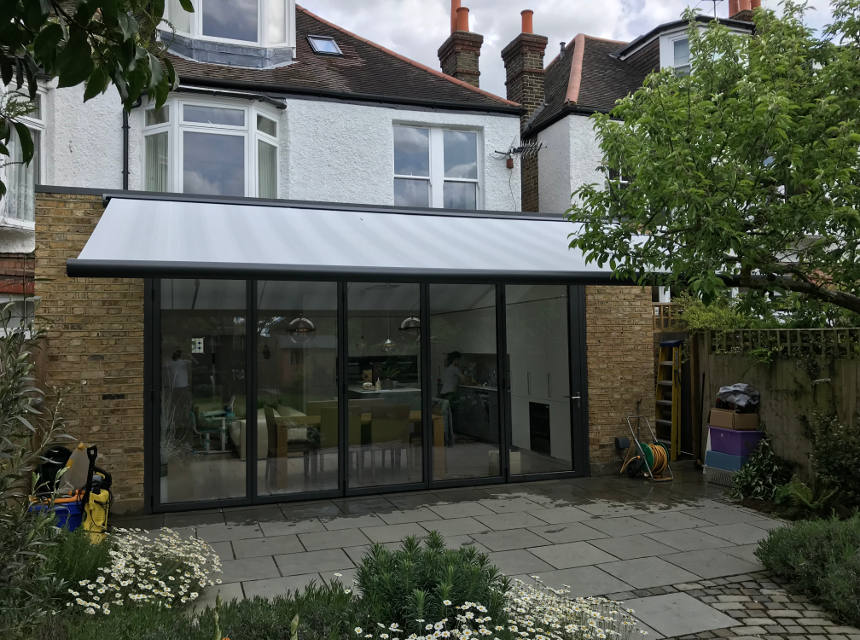 Dulwich awning
As with many London and Surrey homes, the requirement of a patio awning can sometimes give people a headache when considering how to tackle the task when there is limited height or only a parapet wall above the doors and thinking you can install an awning is not as straightforward as it looks. The leverage of an awning extending out some 3 or 4 meters from the building can create extreme pressure on a structure and potentially lift the wall and roof above resulting in catastrophic problems.
This recent case study is the correct way to install an awning when you have both a parapet wall and limited height.
We were invited to look at this recently extended London home in Dulwich following the construction and some new very high bi-fold doors.
The brief was simple. "We have solar issues in our kitchen and need to reduce the heat, and it would be good to have somewhere to sit and eat when we open the doors".
Initial investigations were quite normal to us. Also, we requested from the client, details of his builder and architect to obtain structural calculations to see what angle we would approach this project from.
Good news quickly came back, and we were pleased to find the extension had a steel frame similar to a goal post running vertically at both sides and across the door giving a perfect area to obtain a secure fixture from.
Now we had the know how to secure; we had to work on the height as the doors were particularly large and opened with over a meter extension. Given the optimum angle of an awning should be 14 degrees we calculated the fitting height and the walking clearance when extended.
We set out the proposal and method to the client and was put to work immediately.
The first job was to expose the steel beam allowing us to measure and fabricate special steel brackets to secure the awning and raise the height. These we fabricated and powder coated to match the awning frame colour and welded in place soon after on site.
The next phase was to brick up and point the wall either side of the brackets before the awning was fitted.
The overall, our client is very happy with a new 6 meter wide awning that extends over the patio by 3 meters and gives all the shade required as well as an area to sit and eat when needed. The client was very impressed with having to only deal with one company to project plan and arrange all the various parts to this impressive project.
Dulwich awning