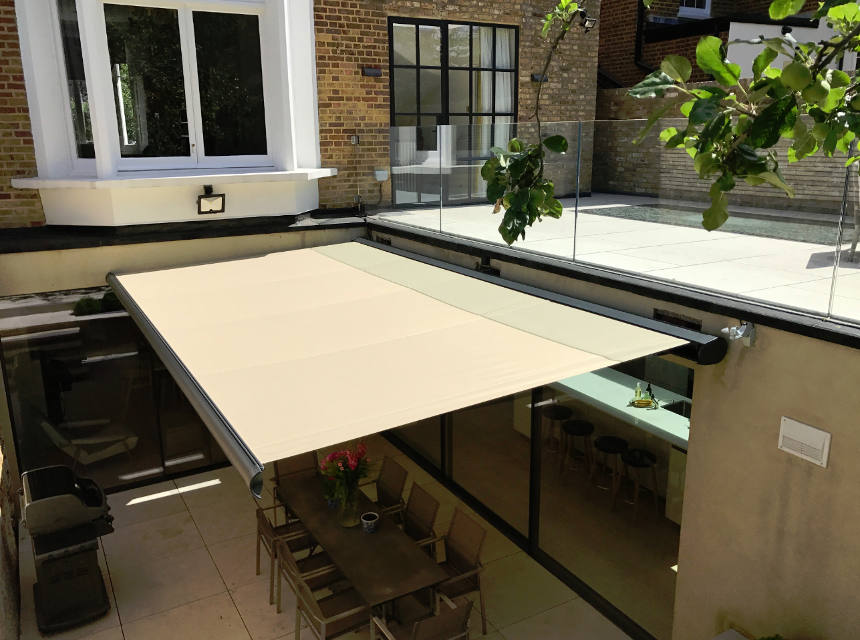 An installation from outside the box
We were contacted by Maria based in Richmond, with a request to provide an awning to a basement patio area of her home.
We made an initial site visit to discuss Maria's requirements and the brief was quite simple. The client required shade for a dining area with heaters for use in the evening and would like the area to be comfortable.
With our initial inspection we found a number of issues to overcome. The area width was 5.5 meters wide and required a 3.0 meter arm to span a glass wall. Normally we would look to install spreader plates down the wall to overcome fitting to a single story or parapet wall scenario. However the building configuration didn't allow this solution. Our attention turned to the building structure, and the builders and architects who were involved with the original design/build.
Investigations moved forward. Following discussions, drawings and more discussions, we finally were able to provide a solution.
In accordance with our drawings, we arranged for Maria's builders to cut away 3 fixing points to allow our site fabricator access to the steel frame within the building. We then proceeded to manufacture, off site, fixing brackets that were finally welded to the RSJ ready for the awning.
Following the installation of the brackets, the installation of the awning followed a day later.  Finally the client's builders made good around the brackets, leaving the fixing areas looking as if they were part of the building.
The final result was a very happy client with a brief fulfilled exactly. A Markilux 6000 awning electrically operated with automated sun and wind controls, and a heating system for the evening. Just perfect.
Richmond, An installation from outside the box