Bedroom blinds provide privacy, create a more comfortable environment and keep light out when you're sleeping. Whether you're choosing blinds for your own bedroom, a children's bedroom or a guest room, there are various styles, colours and patterns to choose from to complement your décor.
Blinds should not only look great but also be practical for how you use a room, so choosing the right style is key. In the case of a bedroom, you need the blinds you choose to create the ideal ambiance for sleeping, while also providing the right balance of light and dark for your specific needs. The right blinds can enhance the look and feel of your bedroom, while also helping to create a more comfortable environment that's relaxing and restful.
What are the best blinds for bedrooms?
Whatever aesthetic you're trying to achieve, there are blinds to suit the overall look, from bold prints and patterns to muted neutrals that blend into the background. Roller blinds are a popular choice as they're stylish while also being practical, and there are colours and patterns to suit every type of décor. They can be purchased as blackout blinds if you require complete darkness in your room to sleep comfortably or if you want added privacy.
If you prefer to wake up naturally with the sunlight, a style that allows a small amount of light through can be beneficial, such as one with tilting slats so you have control over how much light you allow through. Aluminium or wooden Venetian blinds are perfect for this, adding style to your bedroom and providing greater control over light while also protecting your privacy. They're also easy to keep clean for simple maintenance.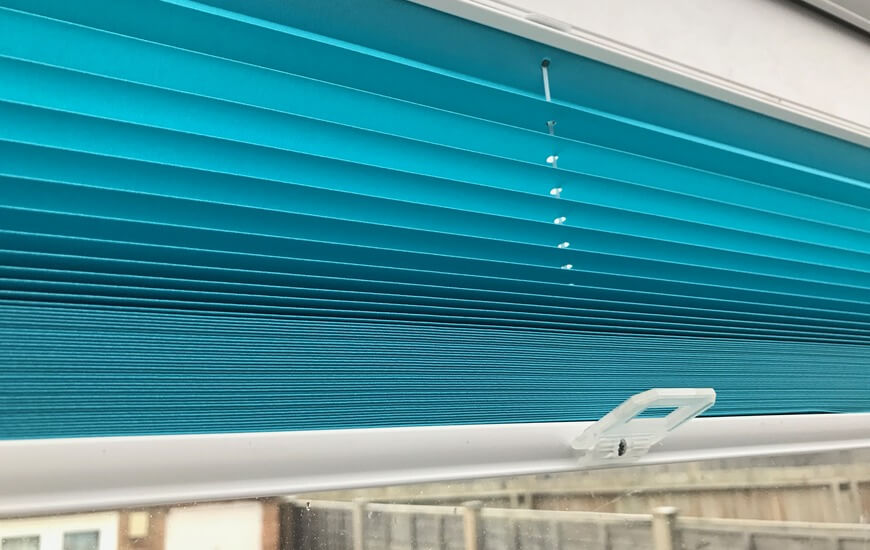 Electric blinds are a great choice if you want a convenient and practical solution for your bedroom – available in a host of styles, you can sync up the blinds to your home automation system, providing control from any location over how open or closed the blinds are. Vision blinds are another solution, also sometimes referred to as 'Day and Night' blinds. They're ideal for controlling the light and privacy while still maintaining the view. There are various fabrics available, with translucent and opaque fabrics which overlap to offer a 'day' and 'night' option.
Want warmth and luxury in your bedroom? Roman blinds are ideal – they can be made with or without blackout linings, depending on your preference, and create a comfortable, peaceful environment for you, your children or your guests to sleep in. They can also be layered with thermal linings to enhance energy efficiency.
As with any blinds, the position in which you hang your bedroom blinds – choosing either inside the window recess or in front of the window recess – will determine how much light escapes from the outside of the blind, so this should be considered when choosing the style of blinds for your room and how they will be installed.
Get in touch
Whether you require a minimalistic or contemporary look for your home, want the added convenience of technology or you want a simpler design, we have options to suit every property. Contact us today for more information about our range of bedroom blinds.