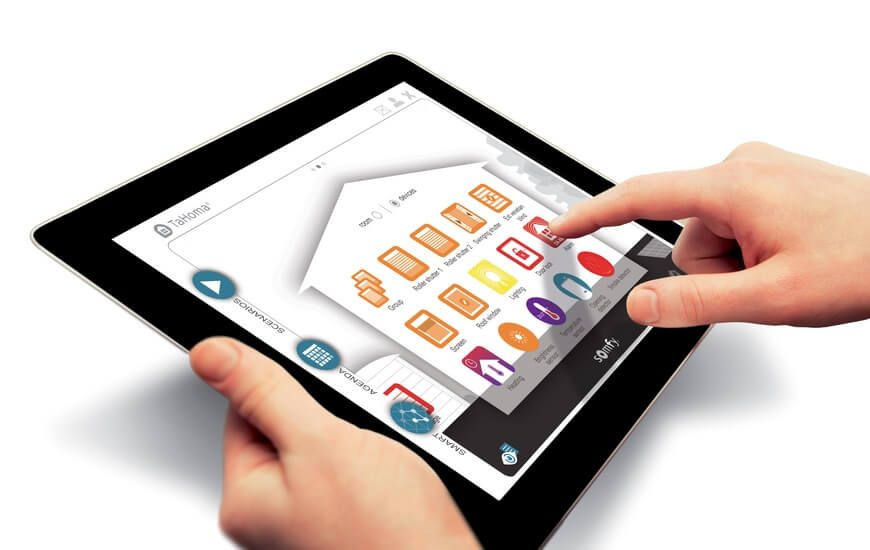 Technology has evolved to make our lives easier, and now we can control various features of our homes with tech, from switching on the kettle so it's ready for when we get home to using timers to automatically switch on the lights or heating.
From voice commands to using our smartphones to control appliances, there are various technology options that we can rely on for greater convenience, control and comfort. And it's not just our lights and heating systems that we can use technology for – these are some of the options available to you for your blinds and awnings that are easy to use and will streamline your routine.
Home Automation
From smart thermostats to security systems and controlling lighting or switching on appliances even when you're out of the house, home automation has come a long way in recent years and helps us to manage our lives day to day. The goal of home automation is to create a more efficient and comfortable environment that's easy to manage. Home automation describes the process of using technology, via apps or sensors, to automate different tasks in your home, whether that's voice commands, timers or a combination of methods. And it's something that can be applied to your blinds and garden awnings too.
Not all home automation companies provide the option to set up smart or electric blinds – however, Aquarius Blinds can supply and install automated blinds for you, as well as provide guidance when choosing the right blinds or awning for your home for enhanced comfort and convenience. Our automated blinds work with the Somfy TaHoma smart home system which accommodates your personal preferences for easy use and complete control over your blinds via Smart Controls, your smartphone or Voice Assistants.
Electric Blinds

Electric blinds are ideal for controlling the temperature of your home and providing ample privacy for a more comfortable and secure property. There are various options for powering motorised blinds and awnings, with the most common being mains-operated blinds which plug into a standard plug socket which provides a dedicated power source.
Battery-operated blinds which are not connected to the mains electricity can be connected to rechargeable lithium-ion batteries which are embedded into the tube or rechargeable detachable batteries.
However, you can have solar packs fitted to battery-operated blinds which will make them more sustainable and environmentally friendly. Solar-powered electric blinds and awnings are ideal for the eco-conscious homeowner, cutting operational costs while also minimising the environmental impact of your motorised blinds. Compact solar panels are fitted behind the blind and detect natural light automatically to recharge the battery pack for a greener way of powering your blinds.
Remote Control Blinds
Another option for controlling electric blinds is via a remote control. With a remote, whether it's a switch or a handheld remote, you'll be able to easily control the amount of light entering your home and the level of privacy you want in moments. Remote-controlled blinds can either be controlled individually or all at once, from anywhere in your home.
Voice Controls
Voice-activated commands, such as using Alexa or Google to control appliances and features of your home, is another option for your blinds. Hands-free and easy to set up, you can use simple voice commands to open or close the blinds in your home, simply by telling them to do so – for example, 'open all blinds in the house' or 'close the blinds in the living room'. Even if you're not in the property at the time, you can use voice controls to operate the blinds and skylights in your home for the ultimate in convenience and speed.
Sensors
Temperature or light sensors can be a useful way of controlling your blinds, opening and closing automatically based on sunlight or room temperature. These sensors can control several blinds and can be adjusted via command modes which will determine what you want the blinds to do in different environments to suit your requirements.
Final thoughts
Automating your blinds, skylights and awnings can make your daily routine so much easier and provides comfort, security and saves time during your day too. From connecting your blinds to your home automation system, choosing battery or mains-operated blinds, or opting for remote-controlled blinds, there are various technological options to choose from.
From roller blinds and bifold door blinds to roof lantern blinds and pleated duette blinds, we have it all. For more information about any of our domestic window blind solutions, please contact our professional team today by calling 0208 288 1081, emailing info@aqblinds.co.uk, or visiting our showroom for a friendly chat.