Motorised 230v RTS radio remote or hard wired WT control operation
Maximum width 000mm
Maximum depth 000mm
Maximum area sq meters
Manual Gear winding crank operation with removable handle
Maximum width 000mm
Maximum depth 000mm
Maximum area sq meters
Neat and stylish, ZIP® blinds can be installed in multiple applications including dim-out, shading, light control, heat control, insect screens, room dividers and more for business presentations and home cinema screens, to name a few.
The heart of the system is SHY®'s specially designed zipper ribbon which is welded to the edges of the blind fabric to create a super-strong, flat join. The zipper ribbon is securely held in a shaped plastic side channel, which allows the blind to run freely and quietly, but prevents the fabric from being pulled out of the channel.
With the box and side channels, the standard colours are white (RAL 9910) and black (RAL 9005) 60% gloss. Natural anodised is also possible on some ranges as standard and others depending on quantity.
Other plastic parts/components are white, black, or grey to complement the paint colour chosen.
ZIP® blinds offer excellent light seal. The side channels guide the cloth in the side channels while the optional bottom channel receives the hem bar with a brush strip thus reducing light ingress around the base of the blind while the optional shelving system protects the sides from the same.
Energy efficiency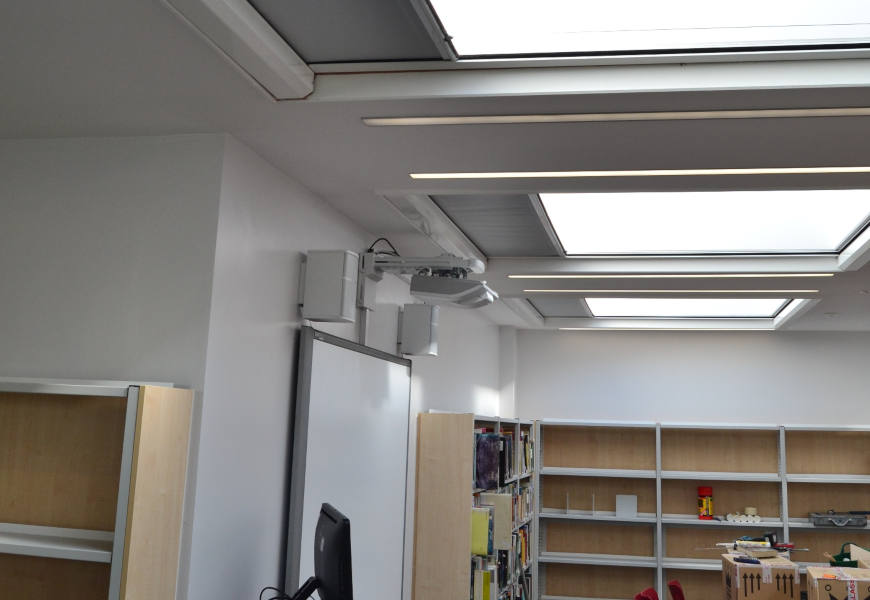 The full cassette system saves energy as air is trapped between the glazing and the blind fabric providing additional insulation. The Chartered Institute of Building Services Engineers (CIBSE) guidance on the thermal resistance of blinds states that full cassette blinds with low emissivity fabric is 8.8 times more effective than a standard roller blind.
Noise protection
When the blind is fully lowered air is trapped between the glazing and the fabric helping to create a dead area similar to the way double glazing works thus helping to reduce noise.
Motorised 230v WT hardwired or 230v RTS radio remote operation
Produced to almost any size or shape
Standard White RAL9910 frame
150mm and 200mm roller box housing depending on blind size
Choice of Blackout or screen high performance fabrics
Renowned Somfy motors and controls
Radio or WT hard wired motor option
Home automation integration compatible
Optional extras
Perimeter shelving option
Non standard RAL colouring option
Sun sensor for automatic operation
Choice of handheld remote controls
Choice of wireless wall switches
Mobile App control
Manual gear winding operation
Manual crank operation
Gearbox with detachable crank handle
3:1 ratio gear
Standard White RAL9016 frame
Choice of Blackout or screen fabrics